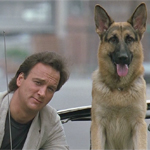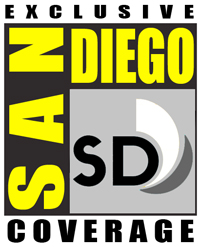 K-9 is a weird type of action-comedy that only existed in the '80s. James Belushi plays own-rules-playing San Diego narcotics detective Mike Dooley, who sneakily borrows a K-9 patrol dog off the books for an unauthorized raid, and then treats the dog as his partner, talking to him as if he's a human in a regular non-dog-related cop movie. And the dog, Jerry Lee (introducing Jerry Lee as himself according to the credits, which is a lie because the dog was named Rando and got totally fucked over because dogs aren't SAG), will sometimes make human gestures like covering his face with his paws in embarrassment or making a little arf sound that resembles a human sigh.
It's humor that often seems more for kids than adults, yet every single other aspect of the movie – the car chases, the bar fight, the shootouts, the angry chief, the arrogant, swimming-pool-lounging drug lord villain (Kevin Tighe, ROAD HOUSE), the relationship problems caused by his occupation, the dramatic score, etc. – is 100% standard issue PG-13 (when that was edgy) action movie. And I don't mean as a parody, mimicking the style to get laughs from absurdity. They're just making a movie how movies were made back then. It wasn't weird at the time. (read the rest of this shit…)
VERN has a new action-horror novel out called WORM ON A HOOK! He has been reviewing movies since 1999 and is the author of the film criticism books Seagalogy: A Study of the Ass-Kicking Films of Steven Seagal and Yippee Ki-Yay Moviegoer!: Writings on Bruce Willis, Badass Cinema and Other Important Topics as well as the crime novel Niketown.