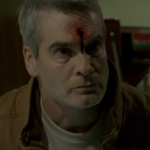 In HE NEVER DIED (2015), Henry Rollins (JOHNNY MNEMONIC) plays Jack, which is the guy mentioned in the title, the one who hasn't experienced death so far. He's an immortal who just lives a boring life in a dingy apartment, mostly sleeping, sometimes playing Bingo, paying his rent in cash from a box of hundreds he has under the bed. Cara (Kate Greenhouse, TERMINAL RUSH), a waitress at the diner he goes to every day, seems to like him, but I'm not sure why. He shows little emotion or enthusiasm and seems uninterested in understanding normal human social interactions.
This is the story of the time a young woman (Jordan Todosey, THE PACIFIER, Degrassi: The Next Generation) knocks on his door and runs off and then he gets a call from a long-ago ex who he hates who says that was his daughter and can he please find her and make sure she doesn't drive home drunk, because that's what she does. Around this same time he's also getting threats from some gangsters for reasons he doesn't understand, or seem that interested in understanding.
So it turns into a story about this gruff, seemingly heartless weirdo accidentally forming a bond with his young misfit daughter – a common format, I know, but one I'm always a sucker for. And then the gangsters notice there's this person in his life, so the two things become intertwined. (read the rest of this shit…)
VERN has a new action-horror novel out called WORM ON A HOOK! He has been reviewing movies since 1999 and is the author of the film criticism books Seagalogy: A Study of the Ass-Kicking Films of Steven Seagal and Yippee Ki-Yay Moviegoer!: Writings on Bruce Willis, Badass Cinema and Other Important Topics as well as the crime novel Niketown.