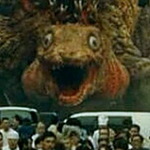 SHIN GODZILLA – or NEW GODZILLA, or TRUE GODZILLA, or GOD GOZILLA – is the new Japanese Godzilla movie, a regular rubber suit one even though it's from acclaimed anime director Hideaki Anno (Neon Genesis Evangelion) (co-director Shinji Higuchi has worked on anime and live action and live action anime and did effects for the GAMERA trilogy). They'd stopped making Godzilla movies in Japan, I guess, but the recent American one by Gareth Edwards got them itching to start over again. So this is yet another do-over where they discover the King of the Monsters for the first time and he doesn't have another monster to fight. He just has Tokyo.
There is plenty of computer animation, but also alot of the old rubber suit, animatronics and miniature models, sometimes deliberately, nostalgically old school. When Godzilla first emerges he's in a comically fucked up form with crazy googly eyes, little nubs instead of arms and a chest that expands and contracts like an accordion. He evolves through several stages throughout the movie, so by the end he's absorbing power and firing energy beams out of his spines like a laser show. And according to my research he is the tallest Godzilla ever, and the one with the longest, weirdest and most fucked up tail. But his eyes never quite stop looking like a turkey's. (read the rest of this shit…)
VERN has a new action-horror novel out called WORM ON A HOOK! He has been reviewing movies since 1999 and is the author of the film criticism books Seagalogy: A Study of the Ass-Kicking Films of Steven Seagal and Yippee Ki-Yay Moviegoer!: Writings on Bruce Willis, Badass Cinema and Other Important Topics as well as the crime novel Niketown.