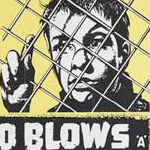 THE 400 BLOWS is the story of Antoine Doinel (Jean-Pierre Leaud), 12-year-old terror of Paris. Francois Truffaut, having been a writer and editor at Cahiers du Cinema and notorious for harshly lashing out at a perceived mediocrity in French film of the time, made his feature directing debut turning childhood memories into cinema. So… the critic has become the critiqued! Actually, that worked pretty well for him. THE 400 BLOWS launched a legendary directing career, won him best director at Cannes, and has been cited as a favorite movie by no less than Akira Kurosawa. People seemed to like it.
Antoine is a kid who gets into some trouble. In fact, the title is from a French idiom that basically means "to raise hell." So this could be called RAISING HELL. The second Doinel film, ANTOINE ET COLETTE, translates to TOUGHER THAN LEATHER in my opinion. Anyway, Antoine may 400 blow and raise hell and bring da ruckus, but he's not a Bad Seed or a Problem Child. We can see that he's not any worse than the other kids most of the time. His buddy Rene (Patrick Auffay) does all the same things Antoine does, for example they steal and smoke Rene's dad's cigars together. But Antoine seems to usually be the one that gets caught or blamed. When all the kids are passing around a pin-up in class, of course it has to be Antoine that's holding it when the teacher (Guy Decomble, BOB LE FLAMBEUR) turns around.
The teacher obviously doesn't like him. He thinks he's bad, so he treats him as bad. How's Antoine ever supposed to do better when he's walking around with a target on his head? Of course he fulfills the prophecy. (read the rest of this shit…)
VERN has a new action-horror novel out called WORM ON A HOOK! He has been reviewing movies since 1999 and is the author of the film criticism books Seagalogy: A Study of the Ass-Kicking Films of Steven Seagal and Yippee Ki-Yay Moviegoer!: Writings on Bruce Willis, Badass Cinema and Other Important Topics as well as the crime novel Niketown.