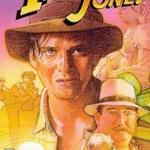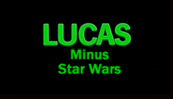 The Young Indiana Jones Chronicles was an ABC TV show that ran from 1992-1993. I never saw an episode. I still haven't, because the version that's on video is called The Adventures of Young Indiana Jones and it's re-edited. According to legend (as well as Wikipedia) the Chronicles were hour long episodes about Indiana Jones as a young man having adventures and/or chronicles in different exotic locations. The stories would jump around in time, so sometimes it would be Sean Patrick Flanery (BOONDOCK SAINTS) as teen/early-twenties Indy, sometimes it would be Corey Carrier (school band cymbal player in THE WITCHES OF EASTWICK) as 8-10 year old Indy. And the episodes would be bookended by George Hall (BIG DADDY) as 93-year-old Indy (with eye patch) remembering the stories.
Wait a minute – that would mean in the then-present day? I always think of him in the WWII era, but it turns out he stuck around a while. Think about that. Indiana Jones was around for Woodstock, for disco, for "We Are the World," for "Baby Got Back." If he had grand kids there might've been an Indiana Jones and the Elusive Cabbage Patch Doll adventure one Christmas. None of this is covered in the show though.
The first season (1992) was 6 episodes, the second season they made 22, but only aired 18 before cancelling it. Then from 1994-1996 they followed it up with four TV movies for the Family Channel. Finally, in 1999 they paired up the hour long episodes, plus a couple new ones, and re-edited them into movies, which came out on VHS and later DVD. One major change was to remove all the segments with 93 year-old Indy, so you never get to see Indiana Jones in contemporary situations, like the one where he tells the story of his teenage love of cars after seeing a monster truck at the gas station.
(Do you think they said if Indy went to movies when he was in his 90s? Do you think he saw UNDER SIEGE?) (read the rest of this shit…)
VERN has a new action-horror novel out called WORM ON A HOOK! He has been reviewing movies since 1999 and is the author of the film criticism books Seagalogy: A Study of the Ass-Kicking Films of Steven Seagal and Yippee Ki-Yay Moviegoer!: Writings on Bruce Willis, Badass Cinema and Other Important Topics as well as the crime novel Niketown.