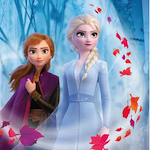 A while back somebody asked me if I was gonna review FROZEN II. I'm sure they lost interest by now, but I work on my own schedule. I didn't review the first FROZEN (unless you count this unrelated movie with the same title) but I liked it at the time. These days the all-consuming cultural force of THE DISNEY CORPORATION is kind of off-putting to me, but back then I was more open to their magicTM. If you read some of my old reviews like SAVING MR. BANKS and POCAHONTAS, hopefully they can explain my interest in the history of the animation studio and the way their story formulas have slowly evolved over the years.
To me FROZEN was another step in the evolution of the Disney Princess. I appreciated their previous movie, the Rapunzel adaptation TANGLED, for allowing its heroine to be flawed, with self-esteem issues coming from her complicated relationship with the villain, who is also her mother figure. FROZEN is maybe less nuanced, but I liked the bait and switch where she needs True Love to break the spell and it turns out the prince you assumed it was talking about is a piece of shit, so sisterly love saves the day instead.
Several years went by, FROZEN's ubiquity in pop culture (let it go, let it gooooo) sanded off much of its novelty, and much like INCREDIBLES 2 I looked at the posters and it looked like the same movie and even though I thought I should see it I felt no urgency to. Then I finally watched it on Blu-Ray and I got about two minutes before I realized that since I only saw FROZEN once, and have no kids in my life to hear obsessing over it, I had to pause and read the entire Wikipedia entry to remember what the fuck it was about. Like, oh yeah, Elsa (Idina Menzel, UNCUT GEMS) with the snow powers was kind of the bad guy at first. I forgot the main character was actually this non-snowy redhead character Anna (Kristen Bell, POOTIE TANG, SPARTAN, SCREAM 4, HIT & RUN). And I was still going, "Okay, yeah, I sorta remember that" in the last couple paragraphs. (read the rest of this shit…)
VERN has a new action-horror novel out called WORM ON A HOOK! He has been reviewing movies since 1999 and is the author of the film criticism books Seagalogy: A Study of the Ass-Kicking Films of Steven Seagal and Yippee Ki-Yay Moviegoer!: Writings on Bruce Willis, Badass Cinema and Other Important Topics as well as the crime novel Niketown.