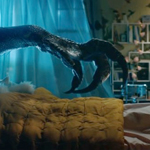 This is weird, there's a JURASSIC PARK sequel that came out 2 1/2 months ago and I didn't get around to seeing it until this weekend, when it's down to two showings a day. I think I saw all the other ones opening day or weekend. But maybe it was a smart move on this one because it benefits from the lowered expectations of everyone telling me it was trash.
In JURASSIC WORLD, you remember, they reopened the dinosaur park and the dinosaurs reattacked the new park and there was a new guy named Owen Grady (Chris Pratt, WEINERS) who was real macho and always trying to show off the size of his forearms. And he trains raptors and has a contentious bickery love with an uptight lady who works at the park named Claire Dearing (Bryce Dallas Howard, TERMINATOR SALVATION).
In FALLEN KINGDOM, the dinos are still loose on abandoned Isla Nubar, where a volcano is about to erupt. Claire is now a dinosaur rights activist trying to convince the government to act to save these endangered dinosaurs. She's contacted by Eli Mills (Rafe Spall, GREEN STREET HOOLIGANS), who runs the estate of John Hammond's dying partner Lockwood (James Cromwell, SPECIES II; also played Howard's father in SPIDER-MAN 3) and wants to fund the rescue mission. But he especially wants to find Blue, the most intelligent raptor, and knows that Owen is the only person who could track her. (read the rest of this shit…)
VERN has a new action-horror novel out called WORM ON A HOOK! He has been reviewing movies since 1999 and is the author of the film criticism books Seagalogy: A Study of the Ass-Kicking Films of Steven Seagal and Yippee Ki-Yay Moviegoer!: Writings on Bruce Willis, Badass Cinema and Other Important Topics as well as the crime novel Niketown.