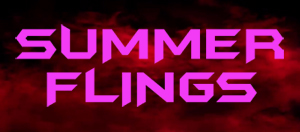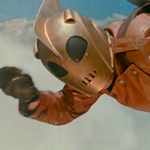 June 19, 1991
THE ROCKETEER has all the right ingredients for an aw schucks old timey circa-1938 super hero yarn. The hero, Cliff (Billy Campbell, FAT KID RULES THE WORLD), is a pilot for air shows – small time enough to be an underdog, but cool enough to strut around in his brown leather pilot's jacket and clock a guy when necessary.
The setting is Los Angeles, so his girlfriend Jenny (Jennifer Connelly, CREEPERS, LABYRINTH) is an aspiring ingenue, the villain is suave, swashbuckling "#3 box office star" Neville Sinclair (Timothy Dalton, BRENDA STARR), and the experimental technology they're fighting over was originated by Howard Hughes (Terry O'Quinn, THE STEPFATHER). Also involved are mobsters (because Sinclair hired them), Nazis (because he is one), G-men (led by Ed Lauter, DEATH WISH 3, THE ARTIST) and a giant named Lothar (former Austrian basketball pro Tiny Ron Taylor [ROAD HOUSE, SASQUATCH MOUNTAIN] made up by Rick Baker to look like Rondo Hatton).
The random way Cliff becomes a jet-packing hero is pretty cool. During a test flight of the craft he and his mechanic/mentor Peevy (Alan Arkin, FREEBIE AND THE BEAN) have been working on for years, he flies over a chase between the mobsters and the FBI. The mobsters think he's with the feds and turn their tommy guns on him! Some kind of mixup causes the gangsters to get away without the jetpack they stole from Howard Hughes, but Cliff accidentally finds where they stashed it. (read the rest of this shit…)
VERN has a new action-horror novel out called WORM ON A HOOK! He has been reviewing movies since 1999 and is the author of the film criticism books Seagalogy: A Study of the Ass-Kicking Films of Steven Seagal and Yippee Ki-Yay Moviegoer!: Writings on Bruce Willis, Badass Cinema and Other Important Topics as well as the crime novel Niketown.