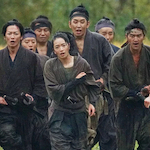 There's something about samurai movies that I find really comforting and grounding. People walking around slowly, just trying to enjoy some baths or poetry or something, but their codes and their swords come into conflict. I don't know, there are different reasons why different ones appeal to me so much, but seeing a good one is always invigorating, so I figured it would be good to see one early in this new year to get things started on the right foot.
I chose SAMURAI MARATHON, officially a 2019 release, though it came to VOD and disc during quarantine time in 2020. It's a Japanese language film, based on a Japanese novel (The Marathon Samurai: Five Tales of Japan's First Marathon by Akihiro Dobashi), with a screenplay co-written by Hiroshi Saito (SAMURAI FICTION) and Kikumi Yamagishi (HARA-KIRI: DEATH OF A SAMURAI), but it's directed and co-written by Mr. Bernard Rose of London, England. Obviously a samurai movie by the director of CANDYMAN is gonna catch my eye. And I'm sure glad it did because, my friends, I loved this movie. (read the rest of this shit…)
VERN has a new action-horror novel out called WORM ON A HOOK! He has been reviewing movies since 1999 and is the author of the film criticism books Seagalogy: A Study of the Ass-Kicking Films of Steven Seagal and Yippee Ki-Yay Moviegoer!: Writings on Bruce Willis, Badass Cinema and Other Important Topics as well as the crime novel Niketown.