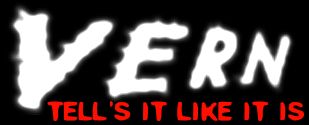 I apologize for this political intrusion. I really don't like writing about this stuff, which is why I don't do it as much as I did back in the early 2000s when I started out. But sometimes you gotta get things off your chest, and sometimes you feel like an asshole if you don't say something. I hope we won't get into arguments about all this, but you can read it or not and consider it or not, and I promise we'll be back to discussing Mario Van Peebles movies and shit in no time. Thank you.
BREAKING: HILLARY CLINTON RECEIVES COVETED VERN ENDORSEMENT
Normally I don't endorse candidates, but Trump recently got the endorsement of the official KKK newspaper. I'd like to think I have more readers than them (?) so maybe this balances it out.
Bottom line of this column: I implore you, if you are a registered U.S. voter, to vote for Hillary Clinton. I know there are many reasons why many people don't want to. Let me bring up a couple of points I think are relevant. (read the rest of this shit…)