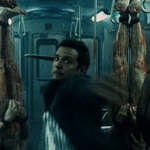 "Please, step away from the meat."
Before THE HANGOVER made him a marquee name, and before he was nominated for Oscars three years in a row, Bradley Cooper was the star of THE MIDNIGHT MEAT TRAIN (2008). Sure, he'd already been in WET HOT AMERICAN SUMMER and WEDDING CRASHERS and some TV shows, like he was on Alias and he played "Jack Bourdain" in Darren Star's short-lived TV version of Kitchen Confidential. But come on. Obviously nobody cares about that shit and I'm embarrassed that I just typed it. He was, and is, the star of THE MIDNIGHT MEAT TRAIN.
Loosely based on a Clive Barker short story, this is a tale of city life. It's about fears of late night public transit, of deserted subway platforms and cars, and our curiosity about the other odd people who are out late. The model in the fur coat, the teens selling candy bars at 2 am, most of all the dour, weathered bruiser in the suit and tie (Vinnie Jones, GARFIELD: A TAIL OF TWO KITTIES), always hunched over clutching his bag and looking miserable.
Leon (Bradley Cooper, THE MIDNIGHT MEAT TRAIN) sees the guy and becomes obsessed with him. He follows him GHOST WORLD style, researches him, photographs him, dreams about him. Leon helps a lady escape from rapists, she goes missing that night, and he decides the man with the bag is involved. The more he investigates the creepier and crazier the whole thing seems. And he has a dream where he sees his own head on the guy's body and it slits his throat and he sees his face reflected in the puddle of blood. You know, that old dream. (read the rest of this shit…)