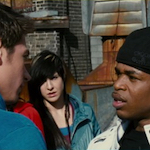 "You know dancing is our only way out."
I was under the misimpression that YOU GOT SERVED was a big franchise like STEP UP. Unfortunately it turns out YOU GOT SERVED: TAKE IT TO THE STREETS (2004) is just an hour-long instructional dance video, and YOU GOT SERVED: BEAT THE WORLD (2011) is really an unrelated Canadian dance movie that they rebranded as a YOU GOT SERVED here in the states. (Elsewhere you might find it as BEAT THE WORLD or THIS IS BEAT.) So we don't get to find out what happens after they shoot the Li'l Kim video.
Think of how many unlikely phenomenons could've been cut down with an unrelated part 2! This could have easily been the fate of THE FAST AND THE FURIOUS, UNDISPUTED and so many others.
The good news is that this one is honestly more fun than YOU GOT SERVED. I knew that would be the case when it opened with a parkour chase across the rooftops. It seems very intense but turns out to be a demonstration. "You know we're gonna be the first crew to bring free running to hip hop." Yuson (Tyrone Brown, BEWARE THE GONZO) has recruited Justin (Chase Armitage, DEATH RACE 2), a freerunner from London, to help his crew, Fusion, create a unique routine for the impending Beat the World international dance competition.