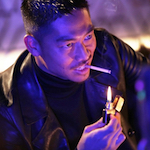 "Even scumbags like us could change the future!"
I bet some of you are way ahead of me on HiGH&LOW, and some of you will be hearing of it for the first time here. Either way I'm excited for us to talk about it. No, this is not related to the Akira Kurosawa classic, and I'm honestly not sure what the title even means. But it it's how they've labelled what Wikipedia describes as an "action media franchise" that has been going on in Japan since 2015. I never heard peep of it until the always with-it Twitter-er @HeadExposure raved about it in August.
You can check out that thread for an explanation and some clips, but I'll try to sum up my understanding from having watched one movie so far. It's kind of a fun challenge – I feel like one of those people trying to wrap their head around the FAST & FURIOUS series or Marvel or Star Wars way after the fact.
I believe it was always planned to turn into a movie series, but the story began on TV with HiGH&LOW: The Story of S.W.O.R.D., which lasted for two seasons. Those characters and storylines continued into this movie, which has since had two sequels, three spin-offs, a TV comedy series spin-off and an anime. (The movies, but not the other stuff, are all available on Netflix.)
The part that's definitely way beyond my understanding is that it was created by a former pop star called Exile Hiro, from a group called Exile, and many of the gangs in the movie are various boy bands/music acts that are part of "The Exile Tribe," so they have albums and tours and stuff related to this franchise. It kind of seems like if the Back Street Boys had an extended family like the Wu-Tang Clan except way bigger and then they all learned martial arts and made violent action movies together. Or is it more like if everyone in the FAST & FURIOUS movies did a concert tour together? I don't know, but to quote Marge Simpson, "Music is none of my business." (read the rest of this shit…)