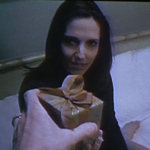 So here I am on part six. Of nine. Two thirds of the way through the HELLRAISER saga. But that's only two fifths of the way into the ones I haven't seen. The DTV ones. The difficult ones. And the God's honest truth is that spirits are low. Morale is low. Quality is low. Every reasonable part of my brain tells me to turn back. But I won't do that – I can't do that – because if I give in now then I've come all this way for nothing. I'll have put myself through all this just to be able to say "I've seen most of the HELLRAISER movies." Not even most of the DTV ones.
That's not me. No retreat no surrender. I've come too far. I'm not a quitter. Did Frank give up and quit? No, he went all the way to Morocco to find that box, and he got it, and he solved it. Maybe that's a bad example.
By the time this one comes out it is 2002. Alot of important horror business started in 2002: the American popularity of J-horror (remake of THE RING while JU-ON and DARK WATER are released), the short trend of fast zombies (28 DAYS LATER), the endless RESIDENT EVIL series, Neil Marshall (DOG SOLDIERS), Eli Roth (CABIN FEVER), Lucky McKee (MAY), and most importantly it was the year of BLADE II. The closest comparison to HELLSEEKER I guess would be HALLOWEEN: RESURRECTION, the 8th, last, and worst of a series started in 1978. But that was a theatrical release.
(DTV horror sequels that had come out since HELLRAISER: INFERNO:
FROM DUSK TILL DAWN 3: THE HANGMAN'S DAUGHTER, CHILDREN OF THE CORN REVELATION, MIMIC 2, AMERICAN PSYCHO 2.)
HELLSEEKER is the first since part II (and the only DTV one) to bring back Ashley Laurence as Kirsty Cotton, stepdaughter of Julia, niece of Frank and Final Girl of the two good HELLRAISER movies. Now she's married to Trevor (Dean Winters, Terminator: The Sarah Connor Chronicles, 30 Rock, insurance ads) and they're driving somewhere but they suddenly plummet off a bridge, and Kirsty doesn't escape. Well, thanks for coming back, anyway. (read the rest of this shit…)