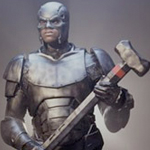 I have an extensive new piece over on Polygon where I rank and discuss all* of the live action comic book or comic strip based theatrical or DTV movies of the 1990s. I know it's weird for me to be writing on a video game sight, but did you know that I'm actually pretty good at Ms. Pac-Man? You might be surprised.
This was fun because I didn't really realize until I compiled a list how familiar I am with the topic. I'd seen almost everything that qualified, although I had to fill in a few holes and rewatch several that I hadn't seen in decades (some of which I'll be reviewing soon). I have my memories of what I thought of the movies at the time and it's interesting to look at them all as one movement and consider how different they seem now that they're artifacts of a bygone era.
Please don't take the rankings too seriously. I'm already questioning why I didn't move certain things around. For example, I know I put SPAWN up too high, trying to give it credit for notoriety. Hopefully my write-ups show a joy for what's unique about this genre even in the lesser ones. Judging from the comments, my low ranking and lumping together of the three TEENAGE MUTANT NINJA TURTLES movies is the most controversial choice. I didn't see that coming, and I think it's a generational difference – I'm just too old to understand why it's so fucking hilarious that they love pizza. I'm more of a cats eating lasagna guy. But apologies for the blasphemy.
I wanted to mention here, since it didn't really fit in the article, that looking at them all together made me realize one particular artist's contribution to this genre. That person is not Danny Elfman, because I'd noticed he scored DICK TRACY, BATMAN RETURNS and MEN IN BLACK, plus the theme for The Flash on television, so I already associated him with comic book movies of that era. No, my new realization was that Nils Allen Stewart, guy who played Jesse Ventura in a TV movie and veteran action henchman with the weird hairdo in the ON DEADLY GROUND bar fight, appears in THE MASK, THE SHADOW, FIST OF THE NORTH STAR and BARB WIRE. Not bad.
Anyway, PLEASE ENJOY THE ARTICLE BY CLICKING HERE and let me know what you think.
*Zack Clopton on Twitter pointed out that I fucked up – I missed PRINCE VALIANT (1997). Damn it.