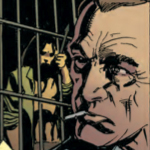 Hey fellas, you know how you like comic strips and all that? And you know how you are also a huge fan of Lance Henriksen from ALIENS, STONE COLD, HARD TARGET, THE QUICK AND THE DEAD, PISTOL WHIPPED, the TV show Millennium, and others? Well that's interesting because Joseph Maddrey, co-writer of the Henriksen autobiography Not Bad For a Human, dropped me a line to let me know that he and Henriksen have written To Hell You Ride, a 5-issue comic series for Dark Horse Comics. The first issue comes out December 12th.
I got to read the first issue, and it's intriguing so far. It takes place in Colorado, with flashbacks to two different time periods and explaining how a ritual-gone-wrong by an unspecified Native American tribe in 1881 reverberates into the present and the life of a young troublemaker named Two-Dogs. There's a sheriff character who seems to be drawn to look like Henriksen, but that didn't stop me from imagining his voice as the third person omniscient narrator.
Joseph says this is a story that came to Henriksen about 30 years ago when he first visited Telluride. He wrote it up as a screenplay in the early '90s, at that time centering on the sheriff character, but it's since evolved into this Two-Dogs story they're telling now. The artist is named Tom Mandrake and I like his drawings. At times very moody and cinematic. There are some cool ideas in regards to how the ritual works. A good start to the story.
And I just now got that "to hell you ride" sounds like "Telluride."
And oh shit, it comes out on 12-12-12. I wonder if it's a sequel to the movie 11-11-11?
Here is more information from Dark Horse Comics
And here's their websight
This entry was posted on Monday, December 10th, 2012 at 7:02 pm and is filed under
Blog Post (short for weblog)
. You can follow any responses to this entry through the
RSS 2.0
feed. You can skip to the end and leave a response. Pinging is currently not allowed.