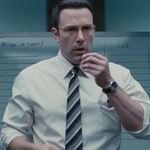 Bear with me here, but Christian Wolff, a.k.a. The Accountant (Ben Affleck, REINDEER GAMES) has kind of alot in common with Blade. He's an anti-hero vigilante who works mysteriously in the underground, a good guy but scary and at odds with the law. He's mostly a loner, but has a few trusted accomplices. He's very aloof, not good at talking, expressing emotion, connecting. He has traumatic parental issues and a condition that he tries to keep under control with special treatments. He has a well-established operation with a secret headquarters and armory that we sort of learn about piece-by-piece as the movie goes on. He's nomadic, setting up base in different parts of the world, always prepared to dump everything and move on if he gets burnt.
This time he knowingly breaks protocol to protect a young woman (Anna Kendrick, SCOTT PILGRIM VS. THE WORLD) who gets mixed up in his fight, and he shocks her by giving a glimpse into his crazy world.
One pretty big difference: instead of a half man/half vampire daywalker, this guy is autistic. That's what causes his social awkwardness. If he were to walk around in broad daylight with a sword on his back it would be understandable.