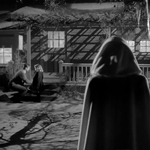 THE CURSE OF THE CAT PEOPLE is a cool and unusual sequel because it is a direct followup to CAT PEOPLE with the same characters, and it references the events of the first movie, but it's an entirely different premise. It came out in 1944, two years later, but theoretically takes place in the then-future because Oliver (Kent Smith) and Alice (Jane Randolph), his assistant who he conveniently left his now dead wife Irena (Simone Simon) for when he thought her cat person beliefs were psychological problems, have had enough time to get married and have a little blond six-year old named Amy (Ann Carter, I MARRIED A WITCH). After failing so spectacularly with his first wife, he uses her tragic ending as justification to continue the exact same oblivious behavior with his daughter, worrying about her being too imaginative and accusing her of "lies" when she tells him strange things like that she heard a voice speaking to her. Once again, the girl he doesn't believe is 100% correct, and shutting her down makes everything worse. That's the curse of the cat people.
In his defense, some of this is probly hard to deal with. Little Amy has a potentially traumatic fiasco where nobody shows up for her birthday party and dad figures out that when she went to deliver the invitations she put them in a fuckin tree hole instead of a mailbox, believing that would work. And then not only does she have a childless birthday, but the next day the kids at school believe they weren't invited and are mean to her. I'm not sure how you deal with something like that as a parent.
But lonely weirdo Amy does end up making two friends, both adult women:
1) Julia Farren (Julia Dean, an actress from Broadway and the silent era making her first sound picture), an old lady, maybe crazy, who lives in a big house the neighborhood kids are afraid of. She's an attention-starved ex-actress so when she finds out that Amy's dumbass overprotective parents never told her the legend of the Headless Horseman even though they live right next to Sleepy Hollow she sits her down and comes out from behind a curtain to do a dramatic recitation.
2) A seemingly imaginative friend who plays with Amy in the garden and magically changes the weather and when she becomes visible we recognize her as the late Irena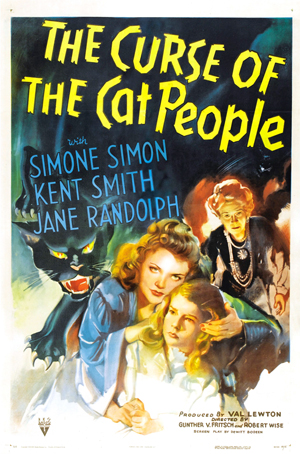 Alice is more liable to believe Amy than her husband is, and sometimes scolds him about it, but she's not around all the time. It's mostly their butler Edward (Sir Lancelot, a Trinidadian calypso singer who influenced Harry Belafonte and had previously appeared in the Val Lewton productions I WALKED WITH A ZOMBIE and THE GHOST SHIP) who takes care of her. It's got that uncomfortable vibe of the character who's very likable but subservient to these white people with no visible outside life.
One of the most brilliant touches is that Elizabeth Russell, who had one mysterious scene in CAT PEOPLE as the supposedly cat-like Serbian woman who approaches Irena and calls her "sister," plays Mrs. Farren's daughter Barbara – or, according to Mrs. Farren, someone pretending to be her daughter. It doesn't seem like it could be the same character, but that scene was so odd and memorable that her presence makes everything eerie and enigmatic.
All this will lead to some of the ol' tragedy, but not in the obvious way, and there's plenty of ambiguity. It seems to me that Irena is a ghost, but Amy has seen pictures of her and heard her name, so it is suggested it could all be in her imagination. If it's really Irena, though, it's never clear if she has any bad intentions, or if she even knows whose daughter this is she's haunting. I like that.
It doesn't permeate the movie, but toward the end it turns into Christmas horror. There's a Christmas tree, some carolers, an important present-opening scene, and snow. So it's a pretty good one to fill that English tradition of Christmas ghost stories.
Apparently RKO wasn't happy with the movie and made them do reshoots. Lewton wanted to call it AMY AND HER FRIEND – I think I agree with RKO on that one. But I wonder if it was gonna be a surprise sequel, like SPLIT? I guess both the near-Sleepy-Hollow setting and the invitations mailed in a tree come from Lewton's childhood. That makes sense. Truth is stranger than fiction.
When director Gunther von Fritsch (STOLEN IDENTITY) didn't finish in time RKO hired CITIZEN KANE editor named Robert Wise to take over, giving him his first director gig and setting off a series of events that would lead to him cameoing as a neighbor in John Landis's THE STUPIDS in 1996. Also at some point before that he made THE SOUND OF MUSIC, the movie adaptation of what Amy is imagining when she's dancing around in the garden.