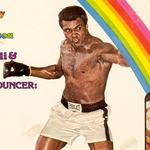 We can't really be shocked to hear that the great Muhammad Ali passed away today, but it still feels wrong. The champ lived almost as long with Parkinson's as without, so he seemed unstoppable. He'd long since lost his incredible athleticism, his quick wit, his big mouth, and yet he kept going. He was out there, showing up in public every once in a while to pass the Olympic torch, receive a Presidential Medal of Freedom, attend the inauguration of the first black president, make himself known as an American Muslim, or tweet happy birthday to The Rock.
Until today we could still call him a living legend. Even outside of professional boxing his adventures were unparalleled. He had a gold medal (which he threw into the Ohio River after being disgusted with the racism he experienced at home – some dude found it in 2014!). He inspired the song "The Greatest Love of All." He was a Wrestlemania referee. He had a cartoon where he went to space. He fought tooth decay. He fought Superman! (Don't worry, his mother's name was Odessa.) But we admired him most for the true bravery of living from his conscience, putting his career and reputation on the line to oppose the Vietnam War, to go public as a Muslim, and to speak out about racism, even if it bummed out Sly Stone on that ridiculously uncomfortable episode of The Mike Douglas Show.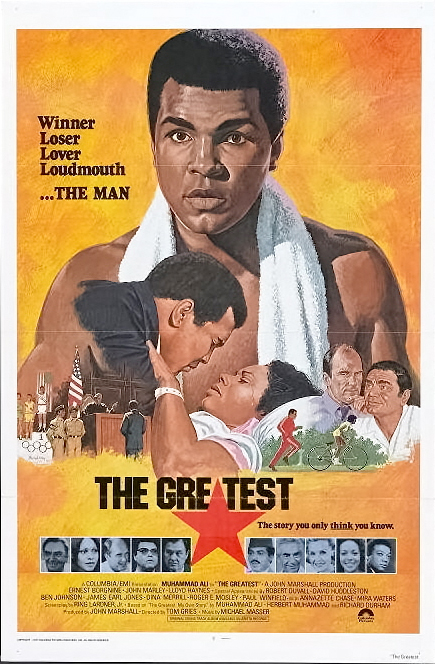 That's one part of why people like me, who truly don't give a shit about boxing, will watch documentary after documentary about Ali, and consider him an American hero and Bruce-Lee-level inspiration to strive for excellence.
Another part: the dude was hilarious. His rhymes, his boasts, his taunts, his comic timing, all top shelf. How likely is an athlete to have that charming of a personality, let alone the greatest athlete? It never happens, except this one time. Imagine if it was normal for athletes to be that entertaining instead of just mumbling something about thanking God for a game.
Of course, this doesn't change anything for us. We will continue to praise and admire and remember Muhammad Ali just like we always did. I wrote about him a few times in the past:
FREEDOM ROAD is the 1979 mini-series he starred in with Kris Kristofferson. He plays a former slave who gets educated and becomes a senator, a really cool role to see Ali in. (I said on Twitter that this was his only acting role, but of course I was forgetting about THE GREATEST, the TV movie where he plays himself. I don't have a review of that one though. Sorry.)
I do have a review of WHEN WE WERE KINGS, I believe the only documentary to make the original Badass 100 list. I'm sure you know about that one, but if you haven't seen it, seriously, do it. (I also highly recommend the companion piece SOUL POWER, but that's about the music festival side of Zaire 74, so he's only in it incidentally.)
And finally I want to recommend the documentary FACING ALI, which is a really different look at him because it's told through the perspective of a bunch of people he fought. (Unfortunately Superman did not participate, but it's still good.) By showing him sometimes in a negative light it ends up being all the more powerful of a tribute.
I can't really recommend my review of ALI, but I remember the movie being pretty good, despite the weirdness of seeing Will Smith's face on Muhammad Ali. I'm sure we'll all be watching that again, huh?
Anyway, thank you Ali for all you did, and all your memory will continue to do.
This entry was posted on Saturday, June 4th, 2016 at 2:37 am and is filed under
Blog Post (short for weblog)
. You can follow any responses to this entry through the
RSS 2.0
feed. You can skip to the end and leave a response. Pinging is currently not allowed.