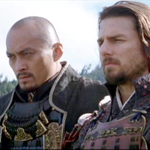 Back in 2003, when THE LAST SAMURAI was new, I had a cynical, kneejerk reaction to it. "Yeah, right… Tom Cruise is the last samurai? Who's next, someone from the brand new TV show this year America's Top Model?" I was offended that they wouldn't make a movie just about samurai, it had to be about the white guy that meets the samurai.
Some things I wasn't taking into account at that time:
I. The DANCES WITH WOLVES type story of a westerner taken in by an enemy tribe of some kind and learning their ways is a longstanding tradition, and it's a cool idea to do one with samurai instead of Native Americans. In fact it was partly inspired by real stories of a French soldier who did something like that.
II. There are hundreds of great samurai movies made in Japan, and director Edward Zwick of COURAGE UNDER FIRE was not about to beat them at their own game. It's simply more interesting if he does his own thing here than if he just tries to imitate Japanese samurai movies. Come on.
III. What the fuck are you talking about here 2003 Vern, you LOVE the white ninja tradition of movies – ENTER THE NINJA, NINJA, AMERICAN NINJA, Steven Seagal… how could there not be value in seeing the big expensive studio from-the-director-of-GLORY version of that?
(read the rest of this shit…)