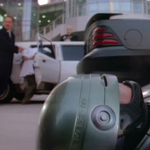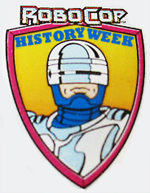 "The Future of Law Enforcement" is the two-part pilot to the 1994 ROBOCOP live action tv series, sometimes known as ROBOCOP: THE SERIES or ROBOCOP: THE BEGINNING. Orion Pictures licensed the TV rights to a Canadian company called Skyvision (no relation to Skynet) who made one season that started airing about 4 months after ROBOCOP 3 took flight. (get it, because he can fly in part 3.) Despite that proximity it seems to ignore the events of the sequels, for example Murphy's family doesn't know he's RoboCop. Sorry, ROBOCOP 3 – you just left theaters like five minutes ago, and we've already disavowed your sorry ass. On Canadian television, even. You blew it, ROBOCOP 3. Admit it.
The script is credited to original ROBOCOP writers Edward Neumeier and Michael Miner, and it definitely has some of their sense of humor in it. I keep reading that it's adapted from their rejected part 2 script CORPORATE WARS. But as a movie sequel you figure they'd try to make it somehow bigger than the modestly budgeted part 1. And now they have to scale it down for a Canadian syndicated television budget. It definitely would've had to have a whole hell of a lot more plot, excitement and things happening to seem like a theatrical movie.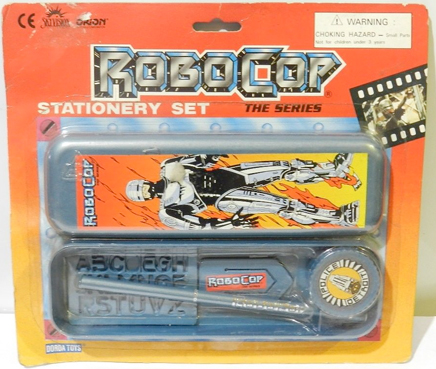 Sure enough this description of the sequel script sounds very different from the TV show. For starters, in the script he gets killed in the opening scene and it skips forward 25 years to a much more futuristic world. In this version it just takes place a couple years later in a cheaper version of the same near future Detroit.
At the start of the series we find that RoboCop is… being RoboCop I guess? He's a cop, he is at the headquarters sometimes, sometimes he drives around in a police car, a few times he attempts to apprehend criminals and they shoot at him. He's not in the show as much as you would hope though. He's played by Richard Eden (who was also on an episode of the show Total Recall 2070! But not the Starship Troopers cartoon, unfortunately). You see him with the helmet off a couple times, but I don't believe he does any emoting at all. He does, in my opinion, do a really good job of walking around like a wind-up tin toy. The suit looks great, exactly like in the movies, and it's enjoyable to see him walking around among normal humans acting like he thinks he fits in.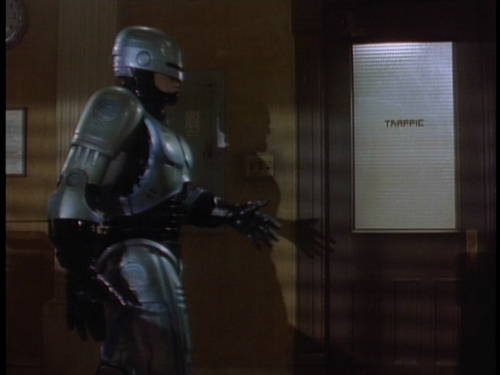 He doesn't have Anne Lewis as his partner now, but it's still a lady, Detective Lisa Madigan (Yvette Nipar of the two Kevin Sorbo WALKING TALL DTV sequels).
They definitely make an effort to re-create the world of the movie, beginning with a "Media Break" and including some fake commercials (which I imagine must've bled into the real commercial breaks). They even went through the trouble to make an animated commercial where a super hero named Commander Cash tries to convince you and your children that it's heroic to have OCP credit cards. (In a later episode of the show Roddy Piper plays a live action Commander Cash).
There's a line in the Media Break where they're talking about what NeuroBrain is supposed to do, and one of the anchors jokes, "But can it program your VCR?" So that's the time period we're dealing with here. The time when it seemed like everybody would always have VCRs.
It's also a time before digital effects were cheap enough to really do on TV, so this is all done the old fashioned way. There are some nice matte shots of Delta City buildings: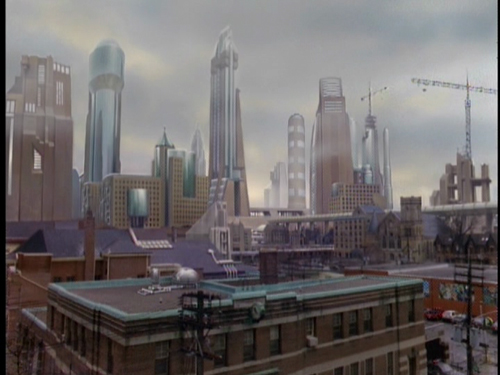 And they follow Verhoeven's lead by including lots of RoboCop POV shots, complete with video scan lines.
There's one semi-entertaining bad guy, "Pudface" Morgan (James Kidnie, True Justice: Street Wars Part 2), who looks like Randy Quaid in DICK TRACY makeup.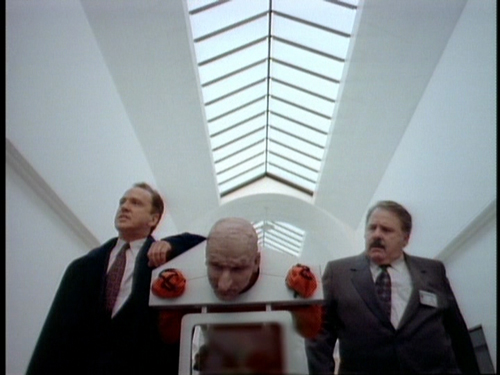 His face is burnt up from a previous RoboCop arrest, he's escaped from the Henry Ford Center For the Morally Challenged, and he's out for revenge. Unfortunately he's just used as a pawn for less interesting villains, some assholes from OCP who have been stealing homeless people's brains for computer experiments and blaming it on a fake serial killer. They're creating a super computer called NeuroBrain to control the city, and they end up killing a BATMAN RETURNS style nosy secretary (Andrea Roth, HIGHWAYMEN, THE COLLECTOR) whose ghost somehow controls the computer and I think in later episodes maybe becomes RoboCop's girlfriend or something. So in that sense it definitely predicted the future accurately, considering how many people meet online now days.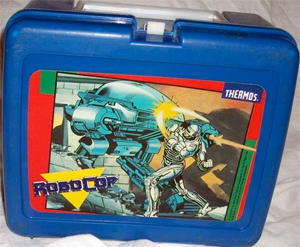 The computer is created by one of those annoying wild haired mad scientist characters, who is named Dr. Cray Mollardo (Cliff De Young, THE SUBSTITUTE). Unfortunately we see a file on him and he's listed as "Mollardo, Cray Z. Dr." Get it? He's a crazy doctor. Boooooooo.
There's also one of these gangs they have in movies that are some punks that live underground and recruit legions of runaway children who they use sort of like slaves. They're called the Dogtown Boys, but surprisingly they don't have skateboards. They also don't have as enticing of an underground lair as, say, the same type of gang in the NINJA TURTLES movie I reviewed, who had free Pepsi and video games. They do pass out free peanut butter and jelly sandwiches, boasting that they're made on "white bread, of course."
Murphy's son Jimmy (Peter Costigan) gets angry with mom (now named Nancy, and played by Jenn Griffin, WHEN A STRANGER CALLS BACK), runs away and joins them briefly, before speaking out against them and getting into trouble. And he's actually not the main precocious kid in this show, there's also a little orphan scamp (Sarah Campbell, BODY PARTS) who witnesses a crime but the grumpy sergeant (Blu Mankuma, CONNORS' WAR) doesn't believe her and keeps sending her back to a fraudulent children's home. It looks like she continued as a sidekick throughout the series, and her name is Gadget.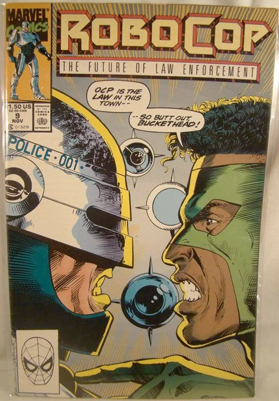 The biggest problem with this is that RoboCop isn't in it enough and doesn't have enough to do. In the first movie he went through this whole journey and was an interesting Frankenstein's monster type of character, learning to deal with his memories of being a human being. In this one the best he can do is rehash the flashback about his son liking T.J. Lazer. (There is a quick flashback of Clarence Boddicker footage too, by the way.) There's not much development for the human part of him. He does occasionally get to use his robot abilities to do police work that organic humans couldn't do. Specifically, he zooms in on the retina of a dead body and scans the image on it to find out who the killer was. (Of course, this is a futuristic take on an outmoded belief so old it was in Jules Verne books and was suggested as a way to catch Jack the Ripper.)
But then he gets shot and is out of commission for a while. At least the scene where it happens is funny. A limo pulls up and a guy says to Robo, "Excuse me officer, I'd like to report a crime in progress."
"Where?" he asks.
"Right where you're standing!" And Pudface jumps out and shoots a hole through RoboCop with some kind of super gun.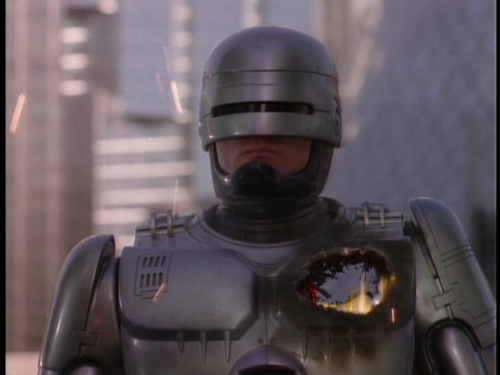 It's not until the end that we finally get some pretty fun action, with Robo fighting thugs including a guy on rollerblades and a guy on fire while riding a motorcycle. Robo's fighting techniques include pushing the rollerblader and clotheslining the flaming cyclist. There are some good stunts here, some motorcycle jumps and pyro stuff. But wouldn't you know it, the DVD messed up and froze up on me right here where the good shit was going down.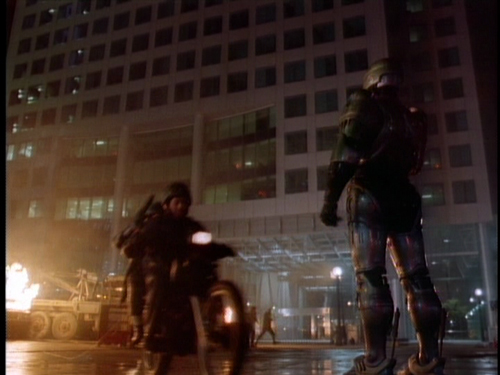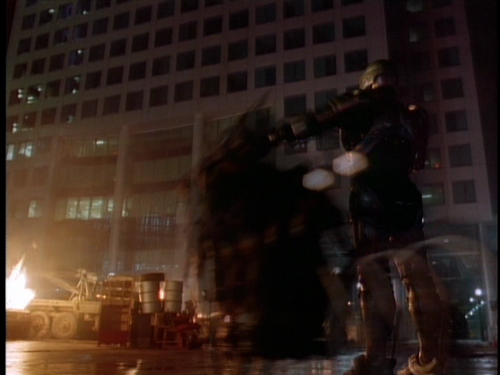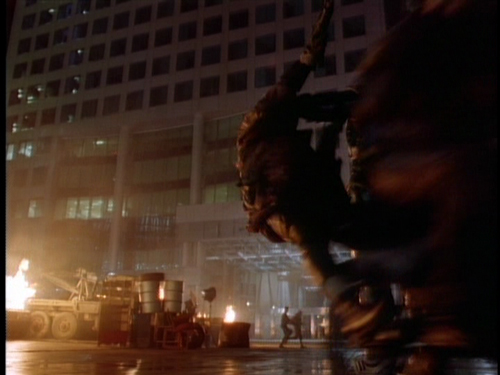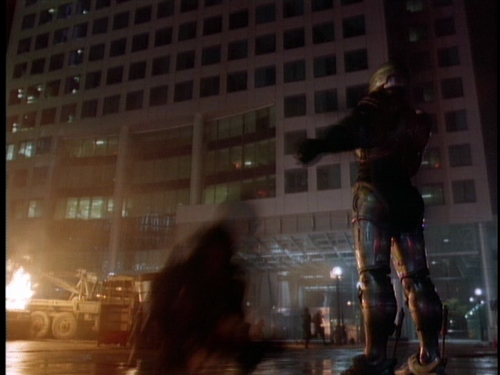 That's an excellent RoboClothesline, and I know I was almost to the end when it froze up, but I wish I could've found out more about what the PortaPerp is exactly.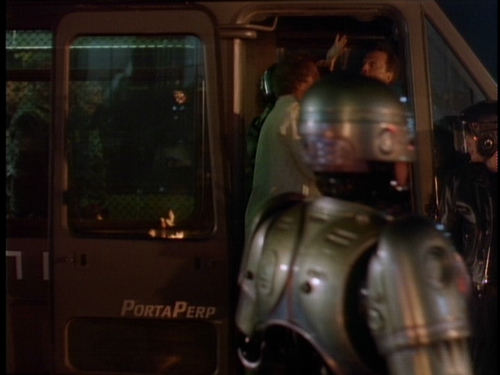 Although there's some Neumeier/Miner type satire and funny dialogue in here (and a hat-tipping use of the phrase "total recall") it's mostly just repeating the type of stuff that was in the movie and not taking things to another level or to new territory. There are not really much in the way of "corporate wars," and their super computer plan is a lame plot that, rather than leading to cool stop motion effects sequences like the movie's ED-209 scheme, just leads to a cheesy hologram lady.
The director is Paul Lynch, who did PROM NIGHT and HUMONGOUS before he became mostly a TV guy. He wasn't able to make this one feel very cinematic, though. It's mostly bland and style-free, except for a goofy gimmick shot where two characters are on Stairmasters and he shoots it sideways and has them say suggestive things so at first you'll think they're fucking.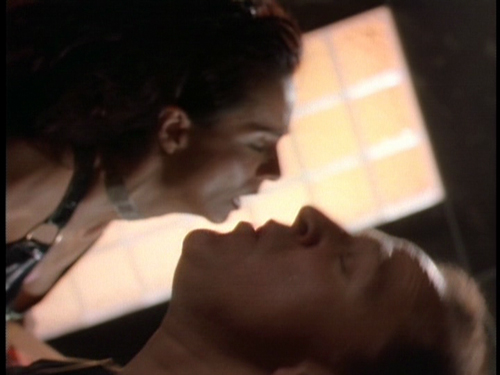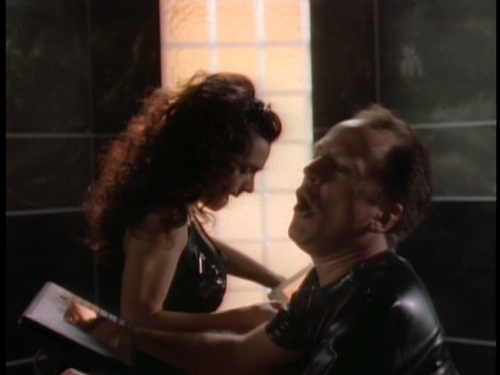 That part actually seemed a little racy for TV. But Canada was ahead of us on that type of shit.
There were 23 episodes of this series. Unfortunately the pilot was not good enough to inspire me to watch the other 21..
This entry was posted on Tuesday, February 11th, 2014 at 3:23 am and is filed under
Reviews
,
Science Fiction and Space Shit
. You can follow any responses to this entry through the
RSS 2.0
feed. You can skip to the end and leave a response. Pinging is currently not allowed.