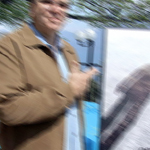 I feel like I should post about upcoming EXPENDABLESes, since we're all fans of several people in the cast, and since we all want to love these movies, though many of us don't. And though the two so far haven't in my opinion come anywhere near living up to their potential I have gotten some joy out of them. So I always want them to get it right on the next one. And this has plenty of elements that sound promising.
spoiler: this post is gonna start out optimistic and then end on a bummer
Today Lionsgate put out a press release with the official cast and plot summary. Not in the movie despite rumors and Stallone twittering: Steven Seagal, Jackie Chan, Mickey Rourke, Nicolas Cage. Officially in the cast though: Wesley Snipes, Wesley Snipes, Wesley Snipes, Wesley Snipes, Ronda Rousey, The Mariachi, the guy from HOLLYWOOD HOMICIDE, Mel Gibson from MACHETE KILLS, plus the previous EXPENDABLES other than Bruce and Mickey. Even Jet Li, who just up and parachuted the fuck out of part 2, apparently they must've caught up with him and dragged him back into part 3.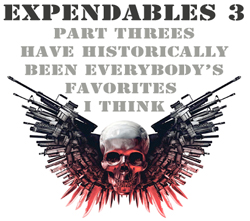 the plot sounds kinda cool:
In THE EXPENDABLES 3, Barney (Stallone), Christmas (Statham) and the rest of the team comes face-to-face with Conrad Stonebanks (Gibson), who years ago co-founded The Expendables with Barney. Stonebanks subsequently became a ruthless arms trader and someone who Barney was forced to kill… or so he thought. Stonebanks, who eluded death once before, now is making it his mission to end The Expendables — but Barney has other plans. Barney decides that he has to fight old blood with new blood, and brings in a new era of Expendables team members, recruiting individuals who are younger, faster and more tech-savvy. The latest mission becomes a clash of classic old-school style versus high-tech expertise in the Expendables' most personal battle yet.
Although honestly it should be that Gibson has already hired the team of young people and then the old Expendables have to show them up. Then it would have that SPACE COWBOYS type appeal. Stallone can't let go of trying to hook in young people, he doesn't understand that oldsploitation (THE BUCKET LIST, RED, GRUMPY OLD MEN, GRAN TORINO) can do better than cynical attempts to be the cool uncle.
But still, it does sound like it could be fun, and for a second I was thinking about that story, about director Patrick Hughes and his movie RED HILL, about Stallone being good in BULLET TO THE HEAD. I guess Wesley's probly a bad guy, because I don't see how he would be part of the new young team, so I imagine that means we get a Statham vs. Snipes fight, which would be cool.
Here's the problem, that I haven't seen other websights picking up on: the press release boasts about Dan Bradley being the second unit director. Bradley is pretty much the inventor of the modern post-action style. He was 2nd unit director for THE BOURNE SUPREMACY, THE BOURNE ULTIMATUM, GREEN ZONE, and QUANTUM OF SOLACE. He also directed the remake of RED DAWN.
I don't mean to impugn the guy. There have been some people who have done his style way worse than him. He's also done plenty of things I like, even working on JASON LIVES. He was second unit director for a few recent movies that I consider to have good or pretty good action scenes: KINGDOM OF THE CRYSTAL SKULL, GHOST PROTOCOL, BOURNE LEGACY. But after the terribly shot action that Stallone purposely put into the first EXPENDABLES (not to mention the apparent attempt to appeal to a "younger, faster and more tech-savvy" crowd) I don't trust hiring the guy who shot the infamous QUANTUM OF SOLACE opening car chase. I am very confident this means the cameras will be shaking worse than even part 1.
So somebody throw water on me when I inevitably get excited for this thing. I mean, I'm gonna see it. It's Wesley Snipes. I saw BROOKLYN'S FINEST in the theater. But don't let me get my hopes up.
This entry was posted on Monday, August 19th, 2013 at 12:45 pm and is filed under
Blog Post (short for weblog)
. You can follow any responses to this entry through the
RSS 2.0
feed. You can skip to the end and leave a response. Pinging is currently not allowed.