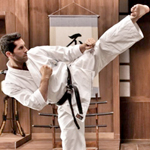 I'm always reading the movie news but only every once in a while is there a convergence of action and tough guy related news large enough to make me feel like I gotta line it all up and make sure everybody here knows about them. Right now is one of those times, though. Click through to see a few noteworthy new developments. Out of kindness I'm even gonna start with the biggest one and it's the one that involves a descendent of a character killed by another character played by Dolph Lundgren.
CREED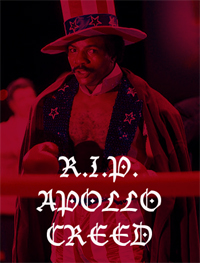 I know some of you have been writing about this in the comments already, but it deserves a post. The most exciting out-of-the-fuckin-blue Badass Cinema news this week is CREED, the newly announced ROCKY spin-off. Indie director Ryan Coogler has managed to channel the festival success and critical acclaim for his drama FRUITVALE STATION into a chance to make his dream project, a story about the grandson of the late Apollo Creed, to be played by FRUITVALE star Michael B. Jordan. He grows up well-off thanks to grandpa's career, but his family doesn't want him to box. When he chases after that dream he goes to completely retired Rocky Balboa to be his trainer. And yes, Stallone has agreed to do it.
Sounds awesome, right? Well, I have some concerns about it being a rich kid's story, since so much of the appeal of Rocky is his rise from nothing. But I'm down for this. Rocky will have to deal with his guilt over not stopping the fight that killed Apollo. And holy shit, what if they got Lundgren in this? Coming to the grandson looking for forgiveness! Well, let's not overreach I guess. But I'd love to see that.
47 RONIN
Keanu Reeves really got into martial arts after THE MATRIX. His directorial debut, a fighting tournament movie called MAN OF TAI CHI, will play Fantastic Fest this year. And here's a trailer for the remake of THE 47 RONIN that he's starring in:
Yeah, I know everybody's gonna be skeptical. It's Keanu, it's a remake of a classic, it uses state-of-the-art digital effects, which the Bible said not to do or something. But I tend to enjoy these big stylized samurai epic type deals. I'm open to it.
The director is Carl Erik Rinsch, who was the commercial director who Ridley Scott wanted to direct PROMETHEUS until the studio insisted he had to do it himself to get the greenlight. Rinsch also did a pretty cool short called THE GIFT:
<iframe src="http://player.vimeo.com/video/33025640″ width="400″ height="300″ frameborder="0″ webkitAllowFullScreen mozallowfullscreen allowFullScreen></iframe>
Another thing I like: according to realorfake3d.com, 47 RONIN is one of those rare blockbusters where they thought hey, maybe since we're releasing it in 3D we should take the time to use actual 3D cameras and make it look like it's actually in 3D.
REMAKES OF VAN DAMME MOVIES
Deadline reported on new developments in the remake of BLOODSPORT. For a while Philip Noyce was gonna direct it from a script by Luc Besson's guy Robert Mark Kamen (THE KARATE KID, THE TRANSPORTER, TAKEN, LETHAL WEAPON 3, COLOMBIANA, etc.). Now it's gonna be directed by former Wachowskis second unit guy James McTeigue, with the script being rewritten by Craig Rosenberg (AFTER THE SUNSET). In the original Van Damme was in the army, and snuck away after being invited to fight in the elite Kumite – this one sounds like it's gonna be different. Deadline explains, "Relativity's version will instead focus on the morally-conflicted life of 21st century mercenaries who clash with the underground world of Brazilian Vale Tudo, the martial arts style used by Donald Gibb's character in the original film."
Actually I don't think Vale Tudo is a "style." It means "anything goes," it's guys fighting without many rules, which inspired the Ultimate Fighting Championship and what we now call mixed martial arts. I hope this doesn't mean there's a legitimate, certified athletic competition going on here. It's gotta be underground, dangerous and seedy. And there should be torches.
I think McT is a step up from Noyce for this type of material, but it's still not in the bag. I enjoyed NINJA ASSASSIN but if he uses the same choreography-wasting post-action style to shoot this it will be a shame.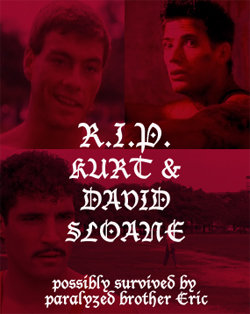 The same article reveals that another company is doing a remake of KICKBOXER, to be directed by Stephen Fung (TAI CHI ZERO and TAI CHI HERO). The script is by Jim McGrath and Dimitri Logothetis, who worked together on the TV show Air America and the Robert Patrick movie BODY SHOT. Radar Pictures, the production company, had something to do with a couple movies I enjoyed like CHRONICLES OF RIDDICK, THE BOX and SPRING BREAKERS.
I don't know if I trust it, but I hope they get somebody to dress up as Tong Po. Obviously Nicolas Cage is always an option.
I wonder if they've considered having Jason Statham star in one of these? Not that I want him to necessarily, but he's remade Charles Bronson, David Carradine, and a character first played by Lee Marvin. Might as well add JCVD to his list.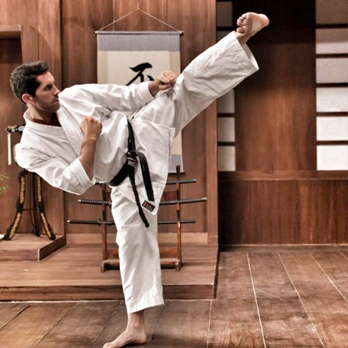 NINJA 2
Scott Adkins announced on Twitter that he and Isaac Florentine's upcoming sequel to NINJA has been retitled NINJA: SHADOW OF A TEAR.
So, uh, I guess we'll still have to call it NINJA 2, because… come on. Anyway, the good news is he promises a trailer soon.
STREET FIGHTER LIVE ACTION SERIES
The video game Street Fighter (known to me from STREET FIGHTER: THE MOVIE and STREET FIGHTER: THE LEGEND OF CHUN LI) is following the Mortal Kombat route of professionally-produced-fan-film-into-web-series. I don't know what the fuck this is, but maybe some of you guys do. The original short is below.
MORE EXPENDABLES CAST
Sylvester Stallone continues to make cryptic comments on Twitter about casting for THE EXPENDABLES 3. So far this month he's implied that he's cast Mel Gibson as a villain ("Mad Max vs. Barney Ross……"), then started looking for a woman to be in the movie ("Who is the newest , maybe toughest female on the plant? RR vs GC ?")
The initials presumably meant UFC Women's Bantamweight Champion Ronda Rousey and former Strikeforce Middleweight Women's Champ/FURIOUS 6 co-star Gina Carano. As much as Rousey fits the bill I was hoping she'd turn it down, because she's in a historic position right now, and retaining a title requires tremendous focus and training. Carano is doing a great job as a movie star but hasn't fought since 2009 (a comeback fight was scheduled in 2011, but her medical clearance was revoked for unknown reasons).
So then of course Stallone announce "Ronda Rousey will show championship form in Expendables 3! So will multi hampion Victor Ortiz!"
Matthew Sanborn on twitter tells me that the UFC isn't scheduling more than a fight a year for Rousey and obviously sees her as more valuable promotion than as an athlete. Well, hopefully this doesn't distract her too much before she does get to fight.
Here's a primer on Rousey for people who don't follow MMA. She started in judo, competing in the 2004 Olympics at the age of 17, going on to win gold medals at the Pan American Games and bronze in the 2008 Olympics. By 2011 she was fighting in Showtime's MMA league, Strikeforce (where Carano used to fight). UFC president Dana White used to insist he'd never have women in the league, but was impressed enough by Rousey to change his mind, signing her in November of 2012 and declaring her the first bantamweight women's champ, which she seemed hesitant about until she defended the title by defeating Liz Carmouche in February.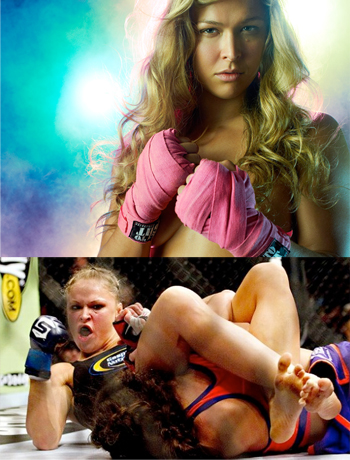 Here's why some of you might like her: she decided to get into MMA after a brawl at a movie theater. She says a group of four obnoxious couples behind her were talking throughout the movie, and one girl kept putting her Ugg boots on the back of her chair, hitting her in the head. After the movie she pulled off one of the girl's boots and threw it, telling her she needed better manners. The group cornered her in the aisle and tried to get her to go pick up the boot, which she refused. They wouldn't let her go, so she ended up beating up the two men who were blocking her while her cousin and friend (also martial artists) held the others back. Apparently the other moviegoers, who must've been amazed to see a girl in a leopard-print dress and flip-flops shoulder throw a man, applauded when it was over.
My favorite detail: the movie they were watching was JUNO. She didn't confront them until afterwards because she was really enjoying it.
Obviously Rousey can fight – she is considered the "pound for pound best female fighter" in the world. And outside of the ring she can look like a model, to the point where I bet some people will see her in THE EXPENDABLES 3 and scoff at the idea of her being a badass. And then, if the camera stays still, they'll be surprised. If she has a good screen presence then she could be a hell of a movie star. I just hope she's able to get more fights in first.
And by the way, is Stallone trying to make it even harder to cast the two "female EXPENDABLES" movies that are in the works? Or could her character be spinning off into one of those?
This entry was posted on Thursday, July 25th, 2013 at 3:54 pm and is filed under
Blog Post (short for weblog)
. You can follow any responses to this entry through the
RSS 2.0
feed. You can skip to the end and leave a response. Pinging is currently not allowed.