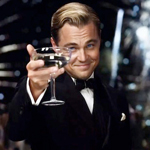 I'm kinda late on writing this one up, not sure if it's even playing anywhere anymore, but what are you gonna do.
THE GREAT GATSBY is the story of this rich guy that's in love with a gal that's already married. It turns out he only got rich to try to impress her 'cause when he first fell in love with her 5 years ago she found out he was, as he says, penniless, and married this other asshole, etc. Leonardo DiCaprio (THE QUICK AND THE DEAD) plays the rich guy, Gatsby, Carey Mulligan (DRIVE) plays his love interest Daisy Buchanan, and Joel Edgerton (ANIMAL KINGDOM) plays her husband Tommy. But the main character is actually Tobey Maguire as whatsisdick, Daisy's weiner of a cousin.
I haven't read the book in decades, but I think this is a problem with doing it as a movie. In a book you gotta have a narrator, unless it's all pictures. And sometimes making that narrator be a side character in the story is a good way to tell it. But in a movie you're looking at this guy, you start and end the movie with him, you share his POV, you see him standing in the room not doing anything while the other characters are doing their thing. And you start to wonder – what the fuck is this guy's problem? Why is he so obsessed with his cousin and her boyfriend? It's seriously all he ever concerns himself with. He needs to pick up some other interests in my opinion. Then I'll watch a movie about him.
And it made me realize I don't think I really like Tobey Maguire as an actor all that much. I mean, the Spider-mans were fun. Does he have anything else but this nerdy put-upon character? Maybe it's time for his terrorist leader or alcoholic cop role. Call up David Ayers or somebody.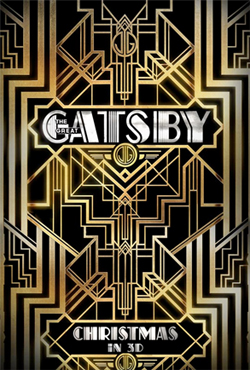 Predictably, DiCaprio's good as Gatsby the Great and Powerful. He put on a little weight in his head, not sure if it's for the character or if he's finally starting to age like a human. He does seem a little less baby faced, finally. He says he's 32 and it's the first time I ever thought he seemed older than the age he's playing. Of course he can do folksy-accented-center-of-attention-who-wears-suits-and-has-servants-and-shit in his sleep, but in this movie he's best when the facade starts to crack. I like the scene where cousin whatsisdick has arranged for Gatsby to surprise Daisy after 5 years of separation. Gatsby starts getting nervous and erratic, he tries to make a run for it, comes back soaked from rain. If you're gonna wear a white suit in the rain don't go for the dark colored pocket square, we learn. He looks like an x-ray.
It's directed by Baz Luhrmann, shot in actual 3D, and it's some of the best 3D I've seen. The only flaw in that department is the early scenes that are cut too quickly, which for me causes actual eye pain in a 3D movie. But the editing calms down quickly. I've noted before that shots through windows always look cool in 3D, and right at the beginning of this movie Luhrmann shows Maguire through a window with snow outside, and you know he's not fuckin around 3D-wise. The movie is heavily digitaled up with big camera swoops down streets, across bodies of water, through huge parties with dancers, swimmers, confetti, fireworks. It was truly THE GREAT GATSBY in Real-D 3D where available.
Because it's Luhrmann of course it's very gaudy and baroque and sometimes intentionally anachronistic. But this one's not as committed to it as ROMEO + JULIET (which put guns and Hawaiian shirts into Shakespeare's play) or even MOULIN ROUGE (from what I remember a period musical but using pop songs of the '70s, '80s and '90s). I'd say GATSBY goes about 96% standard period detail, including mostly period appropriate music by Gershwin and Cole Porter and what not, but then there are I think four Jay-Z songs. You figure since Jay-Z is credited as the executive producer of the movie, not just the soundtrack, that he'd try to secure some new songs. He did a whole album for AMERICAN GANGSTER. But he doesn't do that this time. He just beats on, a boat against the current, borne back ceaselessly into the past of Watch the Throne and The Blueprint 3. The funniest part of the movie is when they're zipping along in their convertible and suddenly another car pulls up beside them, the inhabitants pouring champagne and listening to "Izzo (H.O.V.A.)."
Jay-Z as executive producer – I wonder what that means. Not just what he did on the movie exactly, but why he was interested in taking the project. Is it a SCARFACE situation where he's only looking at the surface, and wants to be associated with Gatsby's opulence and extravagant parties? Or does he feel like he's Gatsby, the riches are all a put-on to win the heart of Beyonce? And if so who is the weinery cousin in this scenario? I doubt it's Kanye. Does Jay-Z have a hypeman? Is Tobey Maguire Jay-Z's hype man?
This is obviously a good cast, with plenty of good performances. Edgerton gets to sort of do a Pacino impression, he seems to be having fun. Jason Clarke is good too, I got my eye on him now after he was so great in ZERO DARK THIRTY. Lots of Australians in there, by the way. Even has Steve Bisely, Goose from MAD MAX. Not an Australian but Isla Fisher as Tommy's mistress (and Clarke's wife). I always like her.
It is a movie with many good qualities, but kinda boring and offputting. I don't regret seeing it because I love seeing good 3D like this, but I didn't think the movie as a whole was all that… excellent.