I am posting this not as an attack on the websight in question, which I sometimes read, and which I know at least one of the regulars here writes for, but simply as a presentation of the facts at hand and a demonstration of my powers.
On April 1, 2008, I posted a fake geocities.com/outlawvern redesign titled "Cheetohs Presents Vern's Cinematic Movie Blog." It was full of dumbed down and crassly commercialized content including, for some reason, a sidebar with the nutrition information from a bag of Cheetos: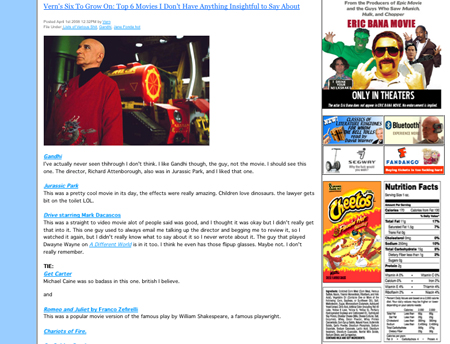 Yesterday, which was not April 1st, this was an actual post on Collider: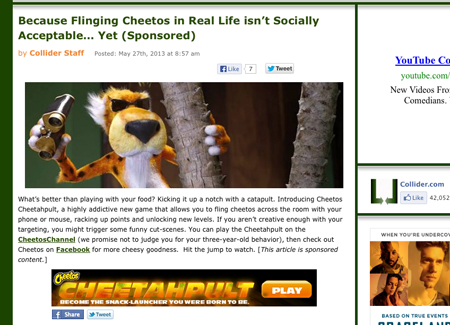 So fuckin listen to me every once in a while, is what I'm saying. Sometimes I know what I'm talking about.
This entry was posted on Tuesday, May 28th, 2013 at 2:33 am and is filed under
Blog Post (short for weblog)
. You can follow any responses to this entry through the
RSS 2.0
feed. You can skip to the end and leave a response. Pinging is currently not allowed.