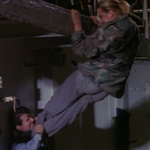 This week in my Daily Grindhouse column I check out STRANGLEHOLD, another Cirio H. Santiago picture. This one is from 1994 and stars Jerry Trimble, who you may know as the guy who fights Dolph in front of the welders in THE PACKAGE. It's an UNDER SIEGE type scenario where delighted-with-himself terrorist Vernon Wells has taken over a chemical plant while Trimble was doing security for a visiting congresswoman.
This entry was posted on Thursday, May 23rd, 2013 at 11:31 am and is filed under
Action
,
Martial Arts
,
Reviews
. You can follow any responses to this entry through the
RSS 2.0
feed. You can skip to the end and leave a response. Pinging is currently not allowed.