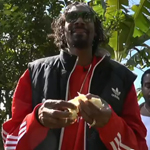 "Snoop gets Lionized"  –headline I predict Rolling Stone or somebody will use for their review
Like anybody, when I heard that one of my all time favorite but past his album recording prime rappers Snoop Dogg was changing his name to Snoop Lion and doing a reggae record, I shook my head and laughed. Ah, what will he think of next? But I saw the trailer for this Vice-produced documentary about Snoop going to Jamaica to record the album and suddenly I had to take the whole idea more seriously. The movie looked good enough that I would've gone to see it in a theater if it had played here. Instead here it is on DVD in time to promote the album of the same name, which came out Tuesday.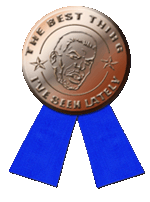 And holy shit you guys, this is a great documentary. I watched it last weekend and it overshadowed all the other things I've been watching lately, most of which I liked. I loved it so much I decided to invent this new medal just to make sure you guys will know I'm not fuckin around. This is an acclaimed documentary now, otherwise it wouldn't have won a prestigious medal like this. If you love Snoop Dogg, or are even open to the idea of Snoop Dogg, you gotta see this. Regardless of how anybody feels about the album this is a great document of a man trying to find himself, of a historic bridging of musical cultures and generations, of the process of songwriting, of an awesome trip to Jamaica.
I think Snoop's been trying to find himself for a while now. Remember he quit smoking weed at one point? Well, that didn't stick. Maybe it's just the version you buy in Washington and Colorado, but this movie depicts a huge amount of weed smoking, preparation and discussion. Snoop proudly shares his "California herb" as a peace offering. His cousin Daz gets blown out of his mind on pure ganja out in what he calls "the jungle," which probly doesn't happen to him too often. They smoke in alleys, in studios, in resorts, on boats, in Rastafarian church services. When he goes and meets Bunny Wailer (who appears to spontaneously give him the Snoop Lion name, making it more legitimate in my opinion, it's like being knighted when a Wailer renames you) he tells him it would be an honor to smoke with him. I'm not into that, but in this movie it's kind of charming how much joy they get out of it. Sometimes it genuinely seems like an act of spirituality.
Snoop meets up with the producer Diplo (a pretty boy American white dude, but a good dance music producer known for the group Major Lazer) at Bob Marley's Tuff Gong studio. Later they set up shop at a secluded resort with a studio (let's face it, Snoop can afford some luxury). Snoop didn't even bring his Playstation, he's very focused on recording. But also he goes on these trips to meet people and learn about Jamaica. He goes to Trenchtown and gets a tour from the Marley family. He hangs out with some dudes on a block, ends up going to their studio to record a song with them. They go up on the roof and there's a mob of people around the building trying to see him, and it intercuts with his first video, "Who Am I? (What's My Name?)," where he performs on the roof of a place called V.I.P. Records in his neighborhood in Long Beach.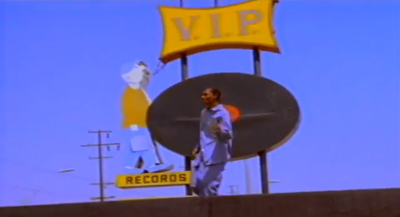 (I was thinking I should try to go to that store some time if it's still there, but I checked and they moved to a smaller store last year and went entirely out of business in February. Eat a dick, progress.)
Periodically Snoop opens up about his life – his childhood, his trial, the night Tupac died, his friendship with Nate Dogg, why he liked Suge, leaving Death Row Records for No Limit. And they got the music and video clearances to properly illustrate it all. It paints a vivid picture of why he wants to change his life to peace and love, it also shows many parallels between how he grew up and how things are for the people he meets in Jamaica, showing why he relates to them and why they seem to love him even though he's this superstar with an endless supply of fly Adidas track suits walking around smiling and yelling "Jah! Rastafari!" every once in a while.
You can't help but question it. There's something touristy about what he's doing. You can't deny that he's doing a fake Jamaican patois sometimes. (Not nearly as much as Seagal would.) And you wonder what percentage of his interest in Jamaican culture is marijuana-related. But Snoop is such a powerfully charismatic figure, so likable and laid back and adaptable to the situations, it's easy to forgive any of that. And you can see that he's listening and absorbing and learning, and making friends. Who can fault him for that?
One of the many highlights is the scene where he visits a school for troubled boys. He goes into the music class and improvises a song while they play. The boys look very shy and it's not clear how aware they are of who he is, but they can't help but smile at this goofball dancing around and singing about them. And it sounds good!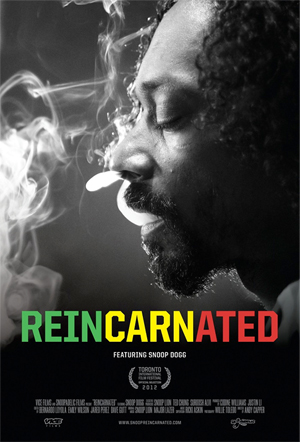 Of course you hear most of the songs from the album. It's a movie full of throbbing bass and lots of dancing and happiness. I have to admit to unconscious white person head nodding and shit. A couple of the songs from the album are immediately catchy, and even the ones that aren't you see the circumstances leading up to writing them, and it makes you appreciate them more. For example there's a part where we see Daz get a text telling him his nephew has died. His ritual of blasting old soul records and smoking for the next few days inspires the singer Angela Hunte to write a song about mourning called "Ashtrays and Heartbreaks." The context makes me appreciate the song more (but also makes it even more wrong that Miley Cyrus sings the lead vocal on the finished version).
I like the album, I've been listening to it alot since Tuesday. Even the most hardened cynic will have to admit it's better than some other Snoop projects such as Doggy's Angels. I'm sure before long I'll mostly cut down to a couple songs where the music moves me the most, like "Lighters Up" and "La La La." But for now I enjoy listening to the album all the way through and I think the movie helps me to see it more as a sincere expression than the silly gimmick I would've assumed. I'm open to Snoop singing about not giving up on your dreams and shit. Hey, I have dreams. Snoop's talking to me! Thanks for the encouragement, Snoop.
By far my favorite song on the album is "Fruit Juice," an energetic ode to fruits and berries. He's chanting and singing about fruit with as much excitement as he ever talked about the chronic. I've listened to it over and over again and I don't detect any irony or secret meanings in this, I think it's literally just about what he says: "Natural berries are so very good for the system / Some tart, some sweet, me just con't resist 'em."
The movie supports this, showing him recording the song after a particularly profound experience eating a grapefruit freshly picked off a tree with Rastafarians in the Blue Mountains. That's what's great about this movie. Snoop has lived through so much, seen so much, and he just doesn't give a shit what anybody thinks about him anymore. He doesn't have to act hard. He wants to love everybody. He loves life and people and yes, grapefruit.
Be sure to watch the deleted scenes. There's one where he leaves Jamaica for 48 hours to perform at Muhammad Ali's 70th birthday celebration in Vegas. He interrupts a conversation between Diddy and LL to tell them he loves them, hugs James Gandolfini, and is thrilled to see the champ enjoying his music. Then it's back on the private jet to Jamaica. Maybe they cut that to give more of a sense of getting away from American life, being isolated in what seems like a whole different world. As you can see in the trailer below it's gorgeously photographed and shows all kinds of really incredible locations and people, so there's a strong sense of place, even though it will periodically leave for flashbacks about gangsta rap history, a powerful section at Nate Dogg's funeral shortly before the trip, or Louis Farrakhan in his home in Chicago talking about meeting with Snoop after Biggie's death and getting all the rappers together to end their beefs.
At the end Snoop is back to North America (Ontario, Canada), where's he's ritualistically handed his gaudy four-finger ring mic and steps out in front of a huge crowd of ecstatic fans and… starts chanting about Jah? I love this ending because I'm left really torn about it. As someone who just went on this movie journey I want Snoop to stay true to his dream of making music about "love, peace and struggle," and if that means he wants to sing reggae songs then he should do it. But as a Snoop Dogg fan I want to see him do "Murder Was the Case" and "Deep Cover" and "The Next Episode."
The movie has taken me from "ha ha, he's doing a reggae album" to "go for it Snoop Lion!" but now the vacation's over, he's not standing on the balcony looking out at the water, he's back home on a stage in front of thousands of people who don't know what he's just gone through, and the whole dream is in danger of dissipating like smoke. I've seen him perform a few times, he knows how to give the crowd what they want, and I'm pretty sure they don't want him to come out and do an all reggae show. It's hard to imagine him not coming out with a hip hop album in a couple years under the name Snoop Dogg and talking about gangsta shit again. Acting like this peace and love thing was just a phase, like when he stopped smoking. And that might be the best plan for his music, but what about for his soul?
This entry was posted on Friday, April 26th, 2013 at 2:04 am and is filed under
Documentary
,
Music
,
Reviews
. You can follow any responses to this entry through the
RSS 2.0
feed. You can skip to the end and leave a response. Pinging is currently not allowed.