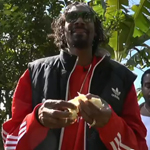 "Snoop gets Lionized"  –headline I predict Rolling Stone or somebody will use for their review
Like anybody, when I heard that one of my all time favorite but past his album recording prime rappers Snoop Dogg was changing his name to Snoop Lion and doing a reggae record, I shook my head and laughed. Ah, what will he think of next? But I saw the trailer for this Vice-produced documentary about Snoop going to Jamaica to record the album and suddenly I had to take the whole idea more seriously. The movie looked good enough that I would've gone to see it in a theater if it had played here. Instead here it is on DVD in time to promote the album of the same name, which came out Tuesday.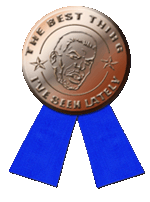 And holy shit you guys, this is a great documentary. I watched it last weekend and it overshadowed all the other things I've been watching lately, most of which I liked. I loved it so much I decided to invent this new medal just to make sure you guys will know I'm not fuckin around. This is an acclaimed documentary now, otherwise it wouldn't have won a prestigious medal like this. If you love Snoop Dogg, or are even open to the idea of Snoop Dogg, you gotta see this. Regardless of how anybody feels about the album this is a great document of a man trying to find himself, of a historic bridging of musical cultures and generations, of the process of songwriting, of an awesome trip to Jamaica.