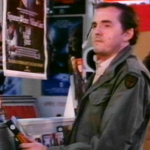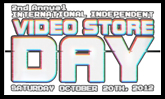 Saturday is Video Store Day, the holiday where if children are good and put a dead fish in the slot of a Redbox then in the morning they find rare VHS and import Blu-Rays under their pillows. And we adults visit our local independent video stores or write cranky essays.
I know most of you live in a futuristic world of satellites and lasers and vending machines in the 7-11 parking lot, but as you know if you read that column from last year the remaining video stores are very important to my lifestyle and the type of movies I review here. It seems like soon we old timers will not be enough to support this industry and we'll be forced to lick the boot of the corporate monopoly, or to start reading more books, until they stop making those too. But until that day I want to honor and support what I still feel is a superior way to find, share and learn about movies. So hooray Video Store Day. If you still have a video store in your area and haven't been there in a while, maybe stop by.

To commemorate the day I wanted to find some October-appropriate viewing that featured a vintage video store as a location. The key word search on IMDb led me to this one, which I rented as part of a 2-disc, 6-movie set of no budget horror crap nobody ever heard of called Serial Psychos. Not lookin positive so far, but I'm an optimist.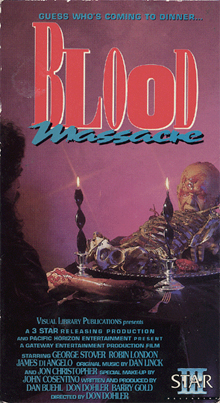 BLOOD MASSACRE obviously takes some influence from LAST HOUSE ON THE LEFT, THE TEXAS CHAIN SAW MASSACRE and a little bit THE EVIL DEAD (with some of the camera work). But sometimes – alot of times, almost every time – even if you have the tenacity to get together with your friends and make an entire movie you're not gonna turn out to have the talent and chemistry and luck that made those other beginning filmatists pull off those movies. And this is definitely not even remotely close in your wildest dreams to being an exception.
The blood massacre begins in a bar, where a Bob-Newhart-looking drifter named Rizzo (George Stover, who it turns out was in several John Waters movies and continues to act in cheapies to this day) gets hit on by (I think) a waitress, then gets thrown out by the manager, then comes back and strangles the manager and stabs the lady to death. So Rizzo is a bad person.
He goes and meets up with his crew, a buddy from 'Nam, the buddy's brother, and a woman (gotta have one woman in the gang, see LAST HOUSE ON THE LEFT). They're sort of planning a robbery at a shopping center, but being real indecisive about it, so when they're in the parking lot staking it out one of the guys gets impatient and decides to go rob the video store.
So they go in there and pretend to browse videos for a while, but then suddenly pull out a gun and a switchblade, throw a bunch of customers on the ground, take their purses, etc. They end up shooting a woman (I couldn't identify the romantic movie poster her blood was splattered on) and make off with a measly $720, which honestly is more than I would've expected from this caper, but they're not happy about it. It's like I always tell these thieves in movies, you gotta pick bigger targets and you gotta have less people to split it with, otherwise it's not worth it. (also crime doesn't pay)
I think the video store is called Fabulous Flickers, or if not that's the name of a section that has a large sign seen in some of the shots. It's pretty crammed with vintage promotional materials. Most of it I couldn't make out but I was able to recognize posters for ENEMY MINE, SOUL MAN, JUMPIN' JACK FLASH, LITTLE SHOP OF HORRORS (the Jack Nicholson one), SID AND NANCY, THE KARATE KID PART II, SPACECAMP, a Jack Lemmon/Julie Andrews movie called THAT'S LIFE!, NOBODY'S FOOL (the Eric Roberts one) and THE GOLDEN CHILD. On one of the counters is a cardboard display of Freddy Krueger: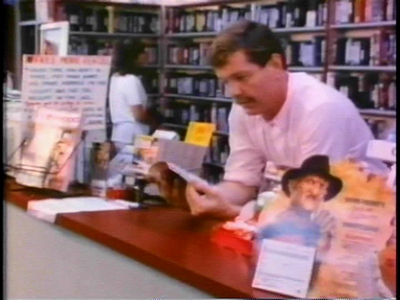 A little research found it to be the entry box for the Nightmare On Elm Street "Be In My Nightmare" Sweepstakes. The grand prize (which was announced on MTV's Headbanger's Ball) was a walk-on part in A NIGHTMARE ON ELM STREET 4. I'm not sure where the winner was in the movie, I'd guess maybe the classroom scenes?
IMDb lists BLOOD MASSACRE as a 1991 movie, but almost all of those movies I mentioned came out in 1986, so I'm guessing this was filmed around '87.
After the robbery the gang seeks refuge at a farmhouse not too far away, taking hostage an old couple, their daughter who they treat like a teen but looks at least 35, and their blond, aerobicizing tenant. Mom cooks dinner, daughter causes gross sexual tension by first making eyes at one guy, then making Rizzo watch her take a shower and seducing him. She bites him, makes him bleed and they make out, getting blood all over each other's mouths. Hmmm.
I honestly didn't see the goofy plot twist coming. The thieves find a dead body in their trunk along with a manila folder that explains that this is the daughter's psychiatrist. Oh shit! She's a nutcase! In maybe the only piece of good acting in the movie Rizzo tries to hide any sign that he could've predicted this. In a worse piece of acting he smiles and says, "We're back in battle, Jimmy. Just like 'Nam."
When they go back into the house the woman from their gang, who was left to watch the family, is now tied up and gagged, and she tells them "They're crazy! They all are!" From this point on the nice old couple look crazed and they giggle and start killing them for meat. (So now I'm wondering why they sent their daughter to a shrink?)
At one point Rizzo has escaped, he's home free, but I guess we know from the double murder at the bar in the opening scene that he's stubborn about these types of things and he always comes back for more. He gathers some things from a shed, goes out into the woods and MacGyvers himself a wooden mechanism that fires a saw blade, plus a couple land mines made from coffee cans, matches, a metal tube, sandpaper, gun powder and nails. Military sounding drums play on the soundtrack as if to say, "You know, 'cause of 'Nam."
This is a little off topic, but there's a pretty good pancake restaurant in Seattle and I noticed recently their reader board says something about their "craft pancakes." I thought that was funny. Anything these days that's not shat out by a robot they act like it's a big deal, "craft beer" and "craft soap" and shit. So I guess Rizzo here has made craft land mines, or artisan land mines. And I guess this is a craft horror movie too. And I'm writing a craft review of it. We're all craftsmen and artisans here.
BLOOD MASSACRE is very, very home made. Not sure if it's Super-8 or what but it's dark, scratchy looking film, I kinda like the look. They're obviously shooting everything one camera at a time and generally the reaction shots do not match up or give the impression that the people were even talking to each other. But there are definitely some people putting in some effort when it comes to smoke machines, dry ice, stuff like that. There are some pretty-good-for-amateurs uses of lighting in a couple spots. But mostly it looks like shit. The music is mostly library so it jumps between low rent keyboard sounds and full, overblown orchestra music.
All the best stuff is at the end. The old man gets the worst line in the movie ("Armed to the teeth!" as he's eating an arm) and the best (offering his daughter some food by saying, "You want some of Monica?"). A head gets chopped off on a porch and falls down and lands in a bucket (but knocks it over, so it's not a perfect shot). And in another complete left turn two of the family tear off their faces and reveal that they're weird monsters.
Other than the monster thing this is actually a pretty funny concept – psychos taking hostage a family that are way more psycho than them. Maybe Platinum Dunes should buy this one. It is an existing title, after all, that's what people want. And the family of director Don Dohler (THE ALIEN FACTOR, NIGHTBEAST) would get s a few bucks.
Okay, this is not a movie I can recommend to anybody, but I regret nothing. Let me end by sharing my favorite weird amateur touch: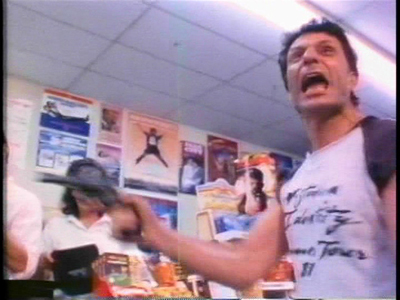 This dude is one of the main characters, and he's wearing a Kim Carnes "Mistaken Identity Summer Tour '81" shirt for the entire movie. There's a big logo on the back too. It's a little distracting.