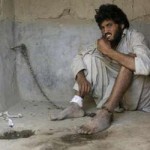 THE ORDER: FROM CREMASTER PART 3
2002
directed by Matthew Barney
written by Matthew Barney
based on characters created by Matthew Barney
starring Matthew Barney, Agnostic Front, Murphy's Law
and introducing Matthew Barney
produced by Matthew Barney
Matthew Barney Matthew Barney Matthew Barney
Synopsis: In this third installment in the popular slasher series, some guy wearing a pink kilt with a napkin in his mouth (Matthew Barney) is in a big white room, climbing around on shit. The Rockettes are there and also the bands Agnostic Front and Murphy's Law. But just when things seem to be going well, this lady turns into some kind of half cheetah lady. Will the napkin guy be able to still climb around and shit? Meanwhile, there are some little hammer things that he keeps fondling.
Review: Well there has been alot of talk about the Cremaster franchise which this guy Matt Barney plays in art galleries and he thinks it is not a movie but actually a statue. That is why he refuses to release any of them on dvd except for this half hour excerpt from part 3. Because it is a statue.
Stephen Holden said in the New York Times, "To my eyes, at least, the Cremaster films convey a sense of antic adventure and playfulness that all but vanished from the Star Wars movies beginning with The Phantom Menace." It's true, I was sitting next to him and during the pod race scene he kept mumbling, "this needs more of that Matthew Barney kind of vibe to it."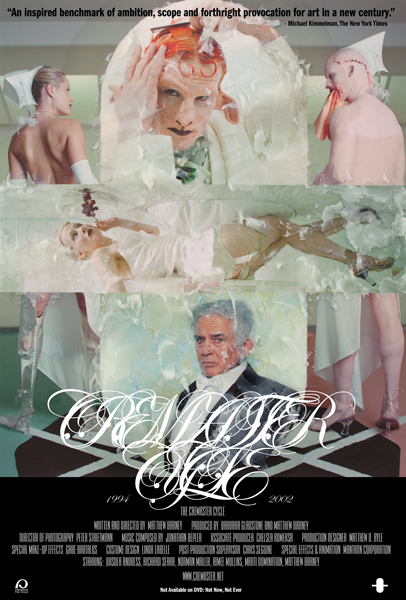 But Stephen's not the only one. Alot of people go crazy for this series but I guess you would have to see part 1 for the sequels to make sense. Out of context it doesn't even seem like a horror movie, it kind of seems like some pretentious asshole jerking himself off and dressing it up enough to look kind of like art.
Since I've never seen parts 1-2 or the first 3 hours of this movie it is a little hard to follow the plot. I'm not sure who this pink guy is (is he the Cre-Master?) or why he keeps climbing around. Also what is his relationship with the cheetah lady and why did she turn into a cheetah lady? If she bites him will he turn also? I bet there was a scene in part 2 where she goes please Cre-Master, I want you to promise me you will kill me if I start to turn. But he couldn't bare to do it. He would've said no but there was a napkin in his mouth so she thought he said yes. That is why she is so mad. Also because it's annoying that he keeps climbing around. And she still feels betrayed by what the Rockettes did at the end of part 2. (Remember that cliffhanger ending? That was the Empire Strikes Back of the Cremaster saga.)
Also there is no cremation in this one so it seems like it is kind of straying from the roots of the franchise. I guess that happens in alot of part 3s though like how Halloween III doesn't have Michael Meyers in it, it's just about those masks. I wonder why this one isn't in 3-D? If it's a statue it should be 3-D.
This excerpt is way too long at 30 minutes but there is one or two pretty good images in there so with a little work it could probaly be edited down into an above average music video.
SPECIAL FEATURES: The same boring crap replayed on a hundred different angles. I dare the artiest motherfucker in the world to make any sense of the multi-angle chapter deal on this disc. For future reference, this is how multi-angles works: There's two people fuckin, right, and you hit angle. So it changes to a different angle, but they're still fuckin. That's what multi-angle is. It's for porn. It's not for watching the raw footage of your self-obsessed garbage.
Look Matthew Barney, I was polite enough to watch your whole 30 minute climbing thing without pausing or fast forwarding. But I think you read too much into that. I just meant that I was willing to give it a chance. I didn't mean I wanted to watch 10 hours of your raw footage.
It also doesn't mean I want to watch the 3 1/2 hour version of Cremaster 3: Cream Warriors. But since we're on the subject, why the fuck didn't you just release that? I watched the trailer, and it had some good shots in it. That's another thing though man, I don't know if you know this but a trailer is supposed to be an advertisement. So like at the end it could say "coming soon" or "this summer" or whatever. But it wouldn't say "there are no plans to ever release this because it is not a movie, it is art." Because that would sort of defeat the purpose of a trailer. Does that make sense?
Newsflash dude: you just spent 8 years making 5 movies about the muscles that cause contractions in your balls. You described your work as "a sexually driven digestive system." I mean for fuck's sake THINK! You should be thanking the almighty lord that people enjoy this crap. I'm sure if somebody wanted to pay me to collect my boogers in a jar for ten years and then they wanted to put it out on dvd I wouldn't try to pull some primadonna shit. If people like boogers give them boogers.
There are apparently people out there who like your movies, so why don't you want them to be able to, like, watch them? That's what you do with movies, you watch them, sometimes on a convenient digital versatile disc type format.
Oh that's right, I forgot. This isn't a movie. This is art. Movies aren't art, this is something WAY beyond a movie. 2001 is a shriveled up little twig next to the tree that is the Cremaster franchise. It would be impossible to transfer Cremaster onto a dvd because the levels of Art are so high that it would probaly be dangerous. The disc would probaly melt any machine it came in contact with. If you watched it, you would turn into a pillar of salt.
Fine, whatever bud. I'm sure the guy that did Leprechaun 3 is pretty proud of himself too, but he still lets people watch his stupid statue on video. Get it together Barney.