It's been a lackluster-verging-on-so-so movie summer. I kinda liked the X-MEN one, THOR was okay, SUPER 8 was pretty good, TRANSFORMERS was enjoyably awful. Definitely my favorite so far is FAST FIVE, and I love that movie but let's face it, it's no RAIDERS OF THE LOST ARK. We want to see adventure. We want to see thrills. We want to see ancient artifacts, that's what summer movies is about. CAVE OF FORGOTTEN DREAMS is no RAIDERS either, but it's a worthwhile 3D extravaganza about adventurers exploring the contents of a mysterious cave that went untouched by man for 32,000 years. It's full of amazing visuals and ideas and raises alot of questions.
I guess I should mention it's a G-rated documentary about cave paintings directed by that weirdo Werner Herzog. So alot of it is just the camera slowly panning back and forth across the same cave wall while squeaky violins and creepy chants lull you into a trance. In 3D!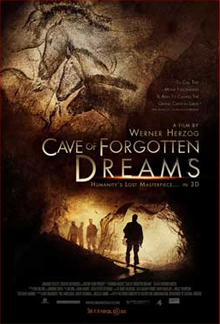 As much as I loved BAD LIEUTENANT: PORT OF CALL NEW ORLEANS and as many good things I've heard about them I haven't rushed out to see Herzog's previous documentaries. But this really is released in 3D and has been playing for weeks at the Regal multiplex downtown. I had to support that. I don't know if it's playing in your town or not but I was surprised that it was still playing here when I went to see TRANSFORMERS 3. I might have to see it again to restore my karmic balance.
The subject is a cave in France, discovered by three explorers in 1994. A landslide sealed the entrance and freakishly preserved the oldest known cave paintings in the world, a bunch of fresh-looking drawings of animals like horses, lions and fighting rhinos. The crazy thing is these are great drawings, elegant lines that beautifully capture their subjects. You gotta wonder – how did these cave painters get that good? Before the landslide was the area littered with practice drawings that have been lost to time? Or was this an ancient person (or persons) just born with an incredible artistic gift? And if so how long has this sort of thing been going on? Back in the neanderthal days were there hairy motherfuckers born with the artistic soul of a Michelangelo or a Beethoven or a Michael Jackson? And did they find some way to express it before they got disemboweled by saber-toothed tigers?
How rare or appreciated were these particular paintings back in their day? Was this cave more like a museum, or an abandoned building covered in graffiti? Did we get lucky and the cave that got preserved happened to be one of the best, or were there tons of them as good as this?
Herzog narrates in his weird Peter Lorre-ish voice. He explains the discovery of the cave, who's allowed to go in and how they're studying it. Archaeologists tell us what they believe happened in the cave, what the area was like at the time, demonstrate how we believe their hunting weapons worked. Standard historical stuff, but this is Herzog, so he also goes off on some weird notions and tangents. And you will too during all that slow panning across horses and lions as the soundtrack haunts you with its avant garde music, whispers and heartbeats.
For example I started wondering about why all the paintings just show animals. Wouldn't it be great if we had first-hand testimony of what people looked like back then? Was it taboo to draw humans? Or maybe this/these artist(s) only liked to draw animals, like a girl that only draws Hello Kitty. There actually is one place in the cave that they say depicts a human, but nobody ever saw it until Herzog extended a camera out on a pole to where it could film it. I couldn't make out the human, but Herzog compares it to some of those old wide-hipped fertility statues you see some time. And he compares it to a BAYWATCH body type, but I don't see it. Those are some big ladies, and it makes me wonder: does that mean that's humanity's natural shape? Is that what we're actually supposed to look like, but we've molded ourselves unnaturally to where smaller is considered healthier? Or is that just evolution, and therefore natural?
How were the ladies getting that big back then, anyway? How much success were the hunters having? I guess maybe there were animals crawling all over the place for this painter to use as reference, maybe it was Meat Lovers Pizza every day. On the other hand why did he bother to paint them if everybody was kicking them out of the way everywhere they went? It would make sense if they were kinda hard to find and that's why he wanted to share what they looked like.
There's also a part of the cave that's just a bunch of dots made out of hand prints. It's abstract art! So that kinda proves that it's not just some bullshit made up in the last century, there is actually a long tradition of non-representative art. Like, real fuckin long.
That would be crazy if there was all these antelopes and lions and then in one spot they just got a picture of a bowl of fruit. Or a butt.
There's more to the cave than just paintings, by the way. There are animal bones, bear scratches, a skull set up almost like an altar. There's a whole history in there, shit going down over thousands of years. People and bears trading off living in the same cave. I hope the bears appreciated the art in there. There are all kinds of stalactites that formed long after the paintings were made, they look like dripped wax to me. Beautiful.
This would be good in regular D, but I thought it was a good use of the 3D technology. It shows you how the artists used the curves of the walls. Like James Cameron's GHOSTS OF THE ABYSS, where 3D Imax put you inside a tiny submersible with Bill Paxton, this makes you feel the claustrophobia of cramming into a narrow space with a crew and a bunch of camera equipment. And most of all it just adds that extra sense of being there in this sacred spot to receive a message of expression from a dude 32,000 years ago. I guarantee you this is the most exposure this artist ever got. Appreciated more after his death, like Van Gogh or Brandon Lee.
It does point to some limitations of 3D, though. There's one scene where they're walking to the cave, shot with a handheld camera, and that gave me the ol' Blair Witch motion sickness some people complain about. I don't usually get that. I can only imagine what those CRANK dudes plan to put us through with their 3D GHOST RIDER sequel. Somebody's gonna get a detached retina I bet.
I'm not one of these people (James Cameron, one or two others) who thinks everything will be or should be in 3D. But I hope people continue to use it for interesting things. Hell, I'd even say this is an example of using it for important things. This cave was an awe-inspiring discovery, and it's already growing mold from the people and air getting in there. It won't stay preserved forever. They've made laser measurements of it, I'm sure they've heavily photographed it, but bringing in 3D cameras is a good idea too. Shit, I'm down with smellovision. I want to know what it smells like in there. Unless it smells like cave bears.
If somebody finds an even older cave, or remnants of Atlantis, if they find Al Capone's other more often used vault, or it turns out there's a secret porn room in one of the pyramids, or if they land on Mars, I vote Herzog gets first dibs on 3D documentation. We owe it to future generations, and to prehistoric man.
This entry was posted on Wednesday, July 6th, 2011 at 11:46 pm and is filed under
Documentary
,
Reviews
. You can follow any responses to this entry through the
RSS 2.0
feed. You can skip to the end and leave a response. Pinging is currently not allowed.