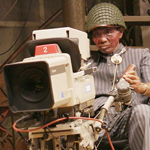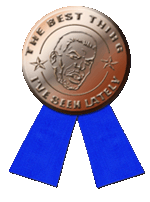 Man, I don't know how long this will last, but when I finished watching THE ACT OF KILLING I had a strong feeling that not only did that have to be the best movie I saw from 2013, it might be one of the best I've ever seen. It's an amazing, one-of-a-kind documentary that achieves a whole bunch of things: it shows me fascinating, outside-of-my-experience human beings in crazy situations; it's a stunning visual portrait of places and people in Indonesia; it is deeply upsetting and shocking and yet at times horribly, uncomfortably funny; it tells my ignorant American ass a few things about a major human tragedy I never heard of but also, it sounds like, helped the people of Indonesia start to address a deliberately whitewashed part of their history. When you hear the subject it sounds like a message movie, but aside from that it has what I think is always more important in a documentary: it captures some incredible human moments that you can't believe you're actually seeing, including a monstrous war criminal coming to realizations about what he did.
It accomplishes this all without a single talking head, no narration and very little explanatory text. It plunges you into this world of war criminals and their supporters who are amazingly comfortable with director Joshua Oppenheimer (and un-named Indonesian co-director – at least half of the names on the credits are listed as "ANONYMOUS"). Oppenheimer is barely seen or heard but sometimes they address him by name like a trusted friend.
The subject is a group of gangsters who who in 1965-1966 were sanctioned by the leaders of a military coup to mass murder anyone who opposed their regime. Their victims included members of a non-revolutionary communist political party and anyone else they wanted to accuse of communism, such as all Chinese people. The main character, Anwar Congo, boasts about killing his half-Chinese girlfriend's dad. He goes to the place where he killed supposedly more than 1,000 people and starts talking shop – how he would never wear light-colored clothes like this because of the blood, stuff like that. He proudly explains his system of strangulation to cut down on the blood, because it smelled bad. He even gets a guy to sit and smile with a piano wire around his neck. He's like a dude you ask about his job and then he overestimates how interested you are and goes into way too much detail.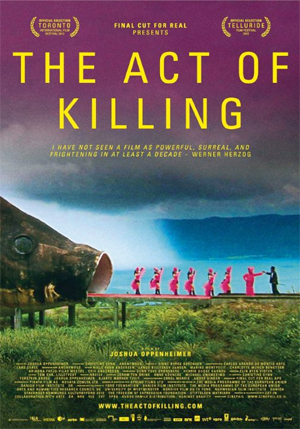 Why can he talk about this so casually? Because these men are not considered criminals. In fact, Anwar is a founding father and hero to those who don't fear him. In his mind he's the same as a WWII vet telling stories about shooting down Nazi planes. But there's some mixed messages here. His sidekick, a fat guy named Herman Koto who weirdly reminds me of the great actor Lam Suet from the Johnny To movies, thinks it's a cool brag to say they're more sadistic than Nazis in WWII movies. Another guy reminisces about raping 14 year old girls. His friends don't seem to get uncomfortable, they laugh and joke and say "delicious!"
The crazy gimmick of THE ACT OF KILLING is that the filmatists somehow convinced these motherfuckers that they should make a movie about one of their famous massacres. They get to do it how they choose, and they choose to play themselves and some of their victims, burn down a village full of their own wives and children playing "communists," and have a big musical dream sequence in front of a waterfall with Herman in drag and the ghost of a communist giving Anwar a medal as thanks for sending him to Heaven. While they're making the movie they turn a little Hollywood, get kind of full of themselves and there are a few moments that are almost like what they'd say if this was a Christopher Guest movie and not a real documentary. In one of the numerous scenes that blew my mind one of Anwar's neighbors who is playing a torture victim tells them, apologetically, about his family being killed and how it affected him. Anwar brushes it off like the guy's giving him creative notes, saying they just don't have time to tell everyone's story.
The moviemaking is insane, but it's not as much of a stunt as it sounds like. These guys are still known as "The Movie Theater Gangsters" because they hung out at a movie theater, scalped tickets and watched American movies before going across the street to kill people. They loved Elvis Presley movies and say they tried to dress and act like Marlon Brando, Al Pacino or John Wayne (obviously their Pacino fandom would've had to come later in life – but I wonder if they're as into SCARFACE as the rappers are?). They say they got ideas for killing people from American movies, though no examples are given.
In that sense it's about the idea of movies influencing people, but it's also about that thing people call "the transformative power of cinema" or whatever. Because the act of acting out the killing and then watching it forces them to see it in a different way, like Mick Foley in BEYOND THE MAT seeing the footage of his kids crying while watching him in the ring. For a while they're oblivious, having fun, not understanding why their children and wives playing the victims are crying. Then they turn all sweet and comforting. There are several jaw-dropping scenes where the re-enactments cause one person to suddenly become self-aware – the more observant killer who points out that their movie is disproving their own propaganda about the communists being the sadistic ones, the paramilitary leader who feels he has to make a statement about his troops acting as a bloodthirsty mob not representing what the organization is about, Anwar himself not being able to continue after playing the guy with the wire around his neck.
It also made me think about those debates where people think showing something in a movie means endorsing it. Here are the actual bad guys, playing themselves, and their casualness in talking about their crimes is so much more powerful than it would be to hear someone else explain what they did. In fact the movie came out of Oppenheimer interviewing victims who told him he could get more from interviewing the perpetrators. Give them enough rope, you know. In this case enough wire.
There are so many different aspects to this that fascinate me: the contrast between the TV host talking cheerily about Anwar's "more efficient and humane" killing methods with the grunts in the control room wondering how he sleeps at night, his own constant complaints about how he sleeps at night, the many uses of propaganda points about "gangster" meaning "free man," one war criminal giving another advice about psychiatrists, Anwar's attempt to not get upset about his execution scene by dragging his grandkids out of bed to show it to them…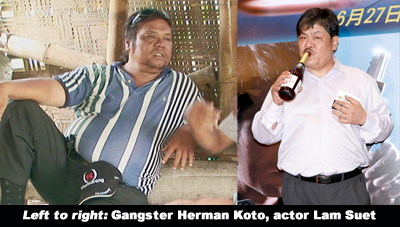 And this guy Herman always gets my attention, even when he's just slumped lazily against a wall nearby while Anwar does the talking. His relationship with Anwar is interesting, he seems to worry about him and try to comfort him when he gets upset. He looks younger than Anwar and I was unclear if he was there for any of the atrocities or if he's just a hanger-on. But he gets really into the interrogation of "communists" for the cameras, as if he's experienced in it. And they actually got him on camera shaking down a terrified Chinese store owner for protection money. They didn't have to hide the cameras, I think he actually thought it would be a cool thing the show in the documentary. And then all the sudden he's wearing fancy dresses and makeup for his massacre movie.
There's an emotional breakdown that happens in the movie, and a friend of mine asked me if I thought he was faking it. It hadn't occurred to me, but in a way it wouldn't matter. Even if it's an act it's a confession that he's not a hero, that he knows he's a monster. He hints at it throughout the movie, throwing in off-handed comments about recurring nightmares in the middle of reminiscing about the good ol' days. Obviously there's some part of him that gets it. Not that that solves anything.
I heard such praise for THE ACT OF KILLING that I knew I should see it, but I wasn't looking forward to it. I didn't know that much about it but what I heard sounded fucked up and disturbing, like a CANNIBAL HOLOCAUST of actual documentaries. And now that it's been nominated for the best documentary Oscar it probly also sounds Important. Well it's probly kinda both of those things, but it's so much more. It's that rare documentary grand slam of great subject, great filmatism and great luck in what they were able to get on film. Don't feel like it's an obligation. It's not medicine, it's not vitamins. It's more like a drug, an intoxicating hit of pure cinema being used to its fullest potential of capturing crazy, weird, fascinating, fucked up, horrible life.
note: I watched the theatrical cut, but there is a considerably longer director's cut included. Let me know what you think if you see that version
This entry was posted on Friday, January 17th, 2014 at 3:34 pm and is filed under
Documentary
,
Reviews
. You can follow any responses to this entry through the
RSS 2.0
feed. You can skip to the end and leave a response. Pinging is currently not allowed.