(Note: I will be reviewing both 3:10s to Yumas in two separate posts)
It's been a couple years that I wanted to see that Bale vs. Crowe version of 3:10 TO YUMA, but I told myself I had to see the original first. And the truth was I wasn't that excited to see the original. I'm not that well schooled on the pre-spaghetti westerns and I didn't know anybody that swore by this one. So it took me 3 or 4 years to get around to it.
Glad I did, though, because director Delmer Daves's black and white take on the Elmore Leonard short story is a real gem. A small, valuable gem, not a big gaudy one like a rapper would wear. It's just putting great characters in a tense situation and seeing what kind of conversations and relationships develop.

It's not the cliche they always talk about of the white hat vs. the black hat. The villain is a mean bastard, but you also like him. The hero is desperate for money, and his manliness is constantly questioned by enemies, authority figures, his wife and his two asshole sons, and I'm not sure his heroic decision is even the right one. But I sympathize with him.
The short story "Three Ten To Yuma" is very short, written for a magazine, and much simpler. The main characters have different names. In the story the hero is a marshal doing his job, in the movie he's a rancher who gets deputized and thrust into this shit. The story just takes place at the hotel hideout, the movie expands to other locations. But what I like best about the movie is the same as the story: these two characters with opposite goals, waiting, hoping not to have to kill each other, and having an okay time overall. It's a combination stand-off and hangout movie.
Most of the movie doesn't really come from Leonard (and I read that he doesn't like either movie version), but it reflects alot about what I like in his stories. I have an ongoing debate with my buddies who watch the Leonard-based TV show 'Justified.' They prefer the episodes that focus on the season-long storyline, the stuff about his ex-wife, whatever Boyd Crowder's up to, etc. Well, the climactic last couple episodes of this season I have to agree were great, but my favorite episodes are usually the smaller "crook of the week" type stories, like the one where Larenz Tate from MENACE II SOCIETY played a con who escapes a halfway house to try to give a Furbie to his estranged son on his birthday. Or the one after that with the three bank robbers.
Those little stories are to me what Leonard is all about. They're not one of the biggest things to happen to Raylan Givens in his life, or even in that year, they're just a day on the job. And we learn about him and the other characters by how they handle or react to these situations, or what they talk about when they're relaxed and there's not guns pointed at them. I like a big, monumental event in the big story arc (like the little girl finding out where her dad really is) but to me they're never as exciting as the unexpected character moments like the scene where Raylan's boss Art catches up with the old bank robber with the oxygen tank. He doesn't want to have to run after him with his bad knees, so he says "You remember the end of the movie JAWS?"
"Yeah," the guy says dejectedly, then unhooks the tank and makes a pathetic run for it.
"Oh, you asshole!" Art grumbles. They both know how the chase is gonna end, so it pisses Art off that they still have to go through the motions. 'Cause his knees hurt.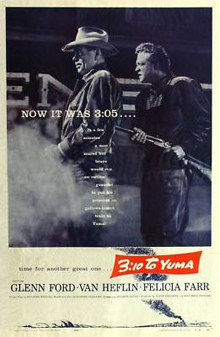 3:10 TO YUMA is all about those type of character moments. Ben Wade (Glenn Ford) is a notorious stagecoach robber who gets caught after the murder of a wagonmaster. Dan Evans (Van Heflin) is a struggling rancher who helps transport him to the town where the prison train stops, because he needs $200 to save his property after a two-year drought. Along the way there are gunfights, escape attempts, mind games and struggles for control, but the best parts are the conversations and the quiet minutes of tension.
Eventually it gets to the short story, the section where Evans has Wade at gunpoint in a hotel room near the train station, hours before 3:10. He doesn't know if the rest of Wade's gang will find out where he is, if they'll have time to get there, or if he himself will give in to the temptation to accept a bribe and let him go. And meanwhile they talk about what they want out of life. (I believe this was before hotels had cable.)
The filmatism really surprised me. Great black and white cinematography, lots of really dramatic angles, and a more realistic look than some westerns of the era. It looks like they're on location, not at a studio. Real interesting faces, too – no pretty boys, lots of wide shoulders and heads. Richard Jaeckel (remember that guy from the DIRTY DOZEN movies) plays Wade's right hand man Charlie Prince, the biggest threat throughout most of the movie.
But the main thing that makes it great is that it focuses on these two characters, and both are really interesting. I felt for Evans right away because not only does the poor bastard get no breaks in life but I feel like everybody has unfair expectations of him. In the opening scene he's with his two young sons trying to bring back a herd of cattle that got away, turns out they're being used to block a stagecoach for the robbery. So they witness twelve gunmen surrounding the coach. When the driver is able to take one of the bandits hostage Wade just shoots both of them.
So Evans is in a jam. If they see him there they'll know he witnessed this, and they might kill him and his sons. So what do his sons do? They start whining, "Aren't you going to do something dad?" Not in a naive "my father is Superman, he'll get 'em!" way either, but in a "I am so disgusted with you father, you are not a real man" type of tone.
Wade does spot them, but has mercy on them. He just takes their horses temporarily so they can't run to the marshals. So after Evans has rounded up the cattle and the horses and brought his sons home safely and tells his wife Alice (Leora Dana) what happened, what does she do? She asks him why he didn't do anything!
Meanwhile the thieves go into town for a drink, and to report that they "saw" a stagecoach get robbed, to send the laws in the other direction of where they're headed. The sight of 11 tough guys lined up at the bar, the pretty bartender (Felicia Farr) pouring them all shots, is amazing. You wonder how she keeps her cool. Of course there's that implication that she sort of gets off on the fear, the ol' attraction-to-bad-boys thing.
Wade becomes interesting when he's alone with her, because he starts sweet talking her and it doesn't seem like an evil guy trying to manipulate somebody, it seems like a sincere flirtation. Okay, so he does kind of the same thing to Evans's wife and that's gotta be him being a bastard, right? I'm not sure, actually. The way Ford plays it he doesn't seem like an evil mastermind or a Lucifer type trickster. He's an asshole and a murderer, but I think he genuinely loves the ladies. He's a charmer and wants to show them a good time.
That happens at one of the many classic scenes in the movie, when Evans brings his prisoner home and eats dinner with him. He's handcuffed but he sits at the table with the family and Evans even offers to cut his meat for him. He's taking him in because he needs the money, it's nothing personal, so he tries to be nice to the guy.
I don't know how much the sons are supposed to be funny, but I think they're hilarious. (I must have a weird sense of humor about these young entitled characters in westerns, because nobody seems to agree with me how funny Mattie Ross is in the original TRUE GRIT.) These kids saw Ben Wade murder two people in cold blood, but because he's cuffed they start criticizing him for not saying grace, telling him their dad could shoot him and shit like that. And dad is kind of like uh, heh heh, come on boys, let's be polite.

The movie keeps coming back to this theme of duty and obligation. Not only does everybody want to know why Evans didn't "do something," when the actual thieves pretend they were the ones who saw it go down they're asked why they didn't "do something." At least with them it makes more sense because they're a large group of tough guys. But that's just how everybody in town feels about this kind of thing I guess. Evans takes the implications of cowardice to heart and decides he will "do something" by delivering Wade to that prison train come hell or high water. Of course, despite all the big talk everybody else gives up and runs for cover as soon as hell is on the horizon and the water is above average height. But Evans sticks around even after Butterfield, the owner of the stage coach tries to call it off and tells him he's not obligated anymore.
Honestly, he probly should give up. What the fuck good is it to prove to his sons that he's tough if he's gonna get shot? I don't think mom's gonna get that $200. In fact, she starts to feel bad that she gave him so much shit about it, she risks her life to come all the way down there and apologize. He should listen to her and forget the whole thing. As one of the cowards says, "Fair fight it's a man's duty," but this isn't a fair fight when it's just him against Wade's whole gang (well, the whole gang minus the human shield guy Wade already shot).
But that's okay, that's what makes him heroic, he does stupid shit and some good shooting, and it ends on a nice note kind of like the story.
I can't recommend this one enough. Definitely one of my favorite non-spaghetti (Kraft macaroni and cheese?) westerns of the ones I've seen. Whoops, maybe I should've saved this for after the remake after all.
http://youtu.be/I8-d0ckZ5mo