This is another one of these random movies I came across in the action section at the video store. It stars Mariel Hemingway as a Secret Service agent who has to rescue the Vice President from guerillas after Air Force 2 crash lands on a remote island. You don't usually see a woman playing that type of action hero, but what really caught my eye was a logo from the Here! cable network, which I believe is all gay-themed programming.
A gay action movie? That's something I've never come across before, and I like coming across things I've never come across before. But it's a made-for-cable movie, so I hesitated. My instincts to give it a shot only won out because the director is Brian Trenchard-Smith, the sometimes-great director of DEAD END DRIVE-IN, THE MAN FROM HONG KONG and DEATH CHEATERS. And, uh, LEPRECHAUN 4: IN SPACE.

Well, let's just say it's not Trenchard-Smith's best work. This is partly just because of the low TV production values. In the old days low budget meant he couldn't do as many explosions as he wanted in TURKEY SHOOT, now he has all the explosions he wants but they're extremely fake looking CGI ones.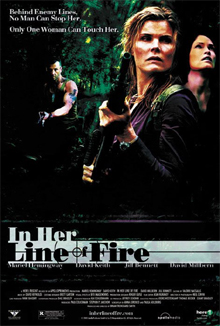 The worst part is trying to fake Presidential shit on a low budget. At no point do you believe these people are really in Air Force 2. (God forbid if they had to fake Air Force 1!) They're sitting around playing cards when the shit goes down, and there's so little protocol that it was a while before I figured out David Keith was supposed to be the VP. Later when there's some dude sitting in a room with a general I assumed I guess this guy must be the president but it turned out he was the secretary of defense or something.
I guess they haven't yet invented that escape pod the president gets into in ESCAPE FROM NEW YORK, or at least they don't have two of them. When the plane's going down they all just hold onto the card table.
There are four survivors: Vice President Walker (Keith), head of security Sergeant Major Lynn Delaney (Mariel Hemingway), Press Secretary Sharon Serrano (Jill Bennett), and a fat guy. They start getting shot at as soon as they hit the beach, so they run off into the trees, where they'll spend most of the movie sneaking around and camping out. It turns out there's a military camp here where a sadistic American mercenary named Armstrong (David Millbern) is helping train rebels to overthrow a dictatorial government.
Of course they get into some trouble with this Armstrong guy, who sees an opportunity to ransom them off. So Delaney and Walker bust out their Rambo skills and you get your usual showing-civilians-how-to-use-a-gun, civilian-being-traumatized-by-having-to-kill-somebody, all the usual stuff you'd expect. And then also you get sexual tension between Delaney and the press secretary lady, that's the novel part. They fight all the time but it turns out it's because they like each other.
Although mostly generic and poorly done the stuff on the island is not as bad as you expect while watching the ridiculously crappy opening on the plane. They do film out in some woods and everything, they got actual locations. I was worried it was gonna be some greenscreened studio shit.
But you're still gonna need to suspend the shit out of your disbelief. It's pretty much always demanding that you overlook some hugely unbelievable story point. I'm not saying our government works like a Swiss watch, but this thing makes them look completely incompetent, it's almost offensive. I don't think they're trying to make a point about it, they just rushed through and didn't put much thought into the screenplay. The vice president's plane goes down and they have no way to track it – no mention of the black box or GPS or satellites or anything. They just lost communication so they get nervous and sit around waiting for a phone call. Hours later, when they finally find out where it went down, the secretary of defense asks the general to have a search team ready to go… first thing in the morning! I'd figure they'd already have been searching when the fucking VP was missing, but they were waiting for a lead like this before they even told everybody to put their boots on. Now he says it's too dark to search so they gotta wait for sunlight.
On the island, where everybody should be trying to protect the VP, the first thing they do is let him swim out in the water by himself to try to rescue somebody. And throughout the ordeal nobody seems protective of him at all. They constantly split up, he carries the gun and often goes out in front. Later we find out he and Delaney were in Kuwait together, so I guess that's why she trusts him to do that kind of stuff. But she oughta be taking her job as a Secret Service agent more seriously. Maybe she's one of those agents that mostly does the counterfeit money stuff.
Meanwhile, the acting is not so hot. Bennett is the weakest link, she might be okay for guest spots on TV shows but sure isn't believable as a press secretary. Not that they give her convincing dialogue either. But she's whiny and annoying and when Delaney threatens to leave her behind if she doesn't shut the fuck up it seems like the best idea anybody's had in the movie.
Hemingway is the best thing about the movie, but she definitely didn't get enough training to be a great action hero. When she infiltrates the enemy camp to plant bombs she should be moving with supreme grace and confidence, like a ninja. She's got a little of that and a little of the teenage-girl-trying-to-sneak-out-without-waking-her-parents type of feel. But acting-wise I think she's convincing as a tough professional and given better material (way better) I think she could be really good in this type of role.
The title is kind of funny. Since she's protecting the vice president I assume it's a reference to IN THE LINE OF FIRE, where Clint was in the secret service and trying to stop a wannabe assassin. But of course in Clint's movie the title means that he's in the line of fire, putting himself in the path of bullets to defend the president. So a true feminized version of the title would be SHE'S IN THE LINE OF FIRE. This title says nothing about protection. In fact, it doesn't make it clear who's in her line of fire. It might mean she's gonna accidentally shoot the vice president.
This is a bad movie and I don't recommend it at all, but what little charm it does have is from seeing people try to make this type of '80s post-Rambo throwback movie from a more liberal world view. It's funny to hear the phony news reports at the beginning and end talking about universal health care being passed and the U.S. being able to help the rebels non violently through the U.N. In the '80s the rebels would've all been evil rapists, I kinda like how in this one most of them are fairly honorable but stuck in an unwise alliance with this asshole mercenary. And it's kind of sweet that the girls feel okay kissing and embracing openly at the end. I'm all for it. Consenting adults should be able to love each other openly, they should be able to marry each other legally, and they should be able to embrace at the end of action movies after the bad guys have been killed, everybody's catching their breath and the camera is pulling away to show the aftermath. Maybe some day it'll happen in a movie that doesn't suck.