I finally caught up with the heavily hyped, Academy Award nominated, tired of reading about it when I haven't seen it yet documentary EXIT THROUGH THE GIFT SHOP. I tried to look it up and apparently I am the very last person left who wanted to see it but hadn't. But I guess wikipedia is not always the most reliable source, so in case they overlooked anybody I'll explain what it is:

some French guy in L.A. named Thierry Guetta becomes obsessed with videotaping street artists, he goes out with them for years recording as they sneak around at night pasting up giant xeroxes of heads and shit, they let him into their Batcaves because they believe he's telling their story in a definitive documentary. But then when he tries to edit it into a movie he makes an unwatchable piece of Jim-Morrison-in-film-school-meets-Tony-Scott-circa-DOMINO bullshit called LIFE REMOTE CONTROL. So the legendary British street artist Banksy (who's credited as director) asks if he can take a crack at editing Thierry's boxes of random, unlabeled and unchronological footage into something a human being might want to purposely watch. And while Banksy plays documentarian they sort of switch places – the videotaper guy tries to make himself into a big time street artist, instant Shepard Banksy.
Basically it's the same plot as THE MECHANIC. Charles Bronson teaches Jan Michael Vincent how to be an assassin but then Jan Michael Vincent tries to kill him at the end.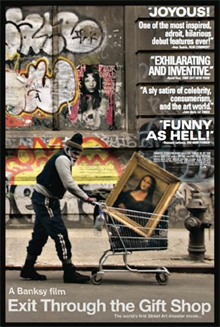 It's an interesting movie, but a simple one. I should've seen it without all the buildup. The dumb thing is I really wanted to see it before the hype anyway. I think I first learned about Banksy when he made his own version of Paris Hilton's CD and "reverse shoplifted" it into Virgin Megastores so that people would accidentally buy it. When I read about that I looked him up and found pictures of his funny, clever, sometimes powerful stenciled street images that turned cement into trap doors or windows or Charles Manson standing on the side of the street hitchhiking. I watched that video of him smuggling his paintings into museums. I got that book about him. I wondered how the hell he did it when I read about him sneaking (for a couple minutes) a hooded Guantanamo Bay prisoner dummy into the landscape of Big Thunder Mountain Railroad at Disneyland. So I was excited that there was a movie about Banksy, or by him, or whatever this was.
It is a little bit about Banksy, and although he continues to hide his face and voice there are a few revealing moments. I like the part where he's showing Thierry his studio and digs up a box of realistic currency he made up with Princess Di's face on it. He explains that he was gonna throw it out windows but got scared when he realized he'd made a million pounds of counterfeit money.
And they show that whole Disneyland incident from the inside. Turns out it was kind of spur of the moment and it was inflatable. So that explains how he carried it in there.
As an aside I gotta say I kind of resent the movie's implication that there's something sinister about the security swooping in. Of course they have to figure out what's going on and make sure everything's safe. They don't want it to turn out to be the beginning of some crazy plot, or for some inflatable dummy carrying dipshit to get his head chopped off by a rollercoaster. I'm glad they have security like that, 'cause if some maniac or terrorist tries to pull some shit to ruin Disneyland for the rest of us I want them to be taken care of by some serious black-ops of the Caribbean, not bumbling rent-a-cops. And also I don't want nincompoops who climb over fences to get run over (which is the cause of the vast majority of deaths that have happened at Disneyland [not that those people are nincompoops, my thoughts and prayers go out to their families, etc.]).
So lay off Disneyland, and I will not budge on that. Even though Star Tours was the first thing I thought of when I heard the title of this movie.
Anyway, this is not a thorough documentary on Banksy or on street art in general. It's also not the most in-depth documentary footage of Shepard Fairey (the "Obey Andre the Giant"/Obama "Hope" poster guy who introduces Thierry to Banksy) – I know I've seen one about him before, I thought maybe it was a segment in Doug Pray's INFAMY, but the IMDb doesn't agree with me.
Anyway, I'd like to see that movie, and the access that Guetta had to all these great artists during their clandestine night time runs makes you imagine a great one, but judging from the footage you see and the obvious lack of planning I believe them when they say there was no way to really use it. It wasn't alot of talking or planning or even clear shots of the finished work, it was just him following these dudes sneaking around.
So what the movie is really about, and what's most interesting about it, is this character, this goofy, upbeat Frenchman with the old timey sideburns. He's kind of a hanger on who idolizes these guys, and doesn't have alot of common sense so there's a couple funny parts where Fairey has to tell him to turn off lights or stand in certain places and ask him if he understands why what he was doing was calling attention to them.
But as he does it more and more he actually does become knowledgeable enough to be a big help to them, to act as a lookout, bring artists to the best spots, connect them with collaborators and stuff like that.
The last act, where Thierry becomes "Mr. Brainwash," is also pretty funny, illustrates Banksy-as-director's point about art becoming a commodity and brings up questions about what is art, what is good art, is Banksy's art that's painted on a wall and gets scrubbed off more valuable to culture than this other guy's art that's hung in a gallery and sold for thousands of dollars (hint: yes). And it even questions Banksy's own ideas because he thinks everybody should create art but then obviously resents the derivative and circusy way that his buddy ends up doing it.
Also it's interesting because although alot of the Mr. Brainwash art (like the Andy Warhol redos) is really obvious and stupid, it does look like the whole spectacle of the show would've been pretty cool to go to, what with its TVs stacked into the shape of giant robots and grafitti everywhere and what not.
So I liked the movie but I gotta admit I didn't love it. I think these points are more cute than profound. I guess to me the interesting part is the street, not the art – the way the movie promotes the value of putting art in public spaces, although it's illegal. Because to me and the majority of humans an art gallery or especially a high priced art auction has no relevance in our lives. We will never see an auction unless you count the scene in MONEY TALKS where he tries to buy the expensive car that has drugs stashed in it. So although it might be interesting as an abstract idea we really only give between .25 and 1.2 shits about if some rich assholes get swindled and pay too much for some bad paintings or whatever. And we already saw WILD STYLE so we know that the grafitti artists got ruined when they started making a play for the legal art world (except for the late Rammellzee). It's a good reminder but not a new revelation.
So if you're somehow seeing this movie later than even me, I say dial down the expectations. I understand why this made everybody smile, but not why it made them do backflips. One guess is that many of them didn't know about Banksy, so the shots of his art and little stories about the funny things he's done were brand new to them, and obviously that's gonna make it more exciting than to somebody that's already enjoyed that stuff before.
But also there's this idea that the movie is some kind of puzzle, that there are tricks and clues and things to figure out. Without really knowing the specifics I've been hearing all year about this movie being a hoax or having some kind of prankish aspect to it. And because of the things Banksy has done before that was easy to believe. But now that I've seen the movie and talked to some people about it I'm convinced that it's a complete misunderstanding.
Part of it has to do with Banksy's anonymity. He shows up with his face hidden so for some reason some people's reflex is to think it's some kind of guessing game, that you gotta figure out his identity. I first was confused by this when I read Harry's review, where he said in the headline that Banksy was actually Guy Ritchie, and then in the review said:
"I'm kidding. I know GUY isn't BANKSY – as I just got off the phone with a friend that has met BANKSY and while he told me Guy isn't BANKSY he said that was a very smart guess… So I suppose it could be MATTHEW VAUGHN. Or anybody. That's part of the fun of this Artist. The mystery."
But I don't think we should call in Poirot just yet. There isn't much of a mystery. I feel that I can confidently state that Banksy is not some celebrity's secret side project.
One time I was waiting for a bus in a quiet neighborhood after midnight. Usually you don't see other people around there at night unless it's some drunk that comes up and starts telling you his life story. This night I heard somebody behind me, I turned around and saw a tall young guy in a hoodie with a green bandana pulled up to his eyes. For a second I thought "oh shit, a fuckin bandit? This guy is gonna try to mug me?" But after we stared each other down he stepped into the alley and examined the tags on the wall.
I'm pretty sure that wasn't Banksy, but like Banksy the guy works in the medium of vandalism. In his profession it's not unusual or quirky to wear a mask, it's just common sense. If you watch graffiti documentaries (including EXIT THROUGH THE GIFT SHOP, incidentally) you'll see that many of them wear bandanas or have their faces blurred, and almost none of them use their real names. One exception is Fairey, and in whatever that other movie I saw was you'll see why that's a mistake, because he gets arrested all the time even when not caught in the act. He'll go to a town for a show and they'll be waiting for him.
I don't have the same problem, I really am a weirdo for being so reclusive, but I've had similar accusations over the years. People used to always say there was more than one person writing as Vern, which is what one of my buddies said about Banksy after watching this movie. And I remember when I wrote a really negative review of JAY AND SILENT BOB'S STRIKE BACK on The Ain't It Cool News some guy in the talkbacks was convinced that I was Kevin Smith and he was making fun of other talkbackers for not getting the joke.
It's not true, there's no guessing game to play, like with Jack the Ripper. I'm just some dude, and I'm pretty sure the same is true of Banksy. It's not a joke, he has a recorded history as a graffiti artist turned stenciler turned everything else. I never heard of Mr. Brainwash before, but the movie shows footage of him with well known street artists across many years, plenty of people vouch for his art really existing in L.A. well before the movie, the L.A. Weekly cover story shown in the movie really exists, and he's still doing shows.
The movie seems real to me, and I so does this interview about it with Banksy and this one with his collaborators.
I take it at face value. There's no joke to figure out here, fellas. It's just a documentary. If it's a mockumentary then it's not a good one, because it's only interesting if it's real. The point is that the guy making the movie really did become a high selling hipster (I'm I using that correctly, kids?) artist. It's meaningless if it's a put on. And Banksy, experienced prankster that he is, would've come up with something way crazier and funnier if the movie was based around some kind of set up. What's interesting about it is this strange character and the unlikely things that happen to him in real life. If it's life it's interesting, if it's satire it's fuckin weak.
So I feel exactly opposite of this review. If it's a real documentary, which it is, then it's pretty good. If it's a mockumentary, which it's not, then it's kinda dumb.
But I feel kinda bad even bringing all that up because if there's anything worth discussing about the movie it's not this stupid argument based on a weird misconception and a bunch of people trying too hard to be in-the-know. So I want to end on a completely unrelated note. What should it be? Uh, how 'bout… it was cool to see Banksy actually cutting out his stencils. I mean, it's just a dude with some paper and an exacto knife, cutting out shapes. I guess it figures that's what it would be, huh?
Here's one of my favorite Banksys:
I only wish there was a picture of that one being removed.
This entry was posted on Wednesday, March 9th, 2011 at 3:53 am and is filed under
Documentary
,
Reviews
. You can follow any responses to this entry through the
RSS 2.0
feed. You can skip to the end and leave a response. Pinging is currently not allowed.