Well, shit. Mike Tyson's poor 4-year-old daughter died. I was already working on a couple of Mike Tyson-related reviews and I don't want it to seem like I'm trying to tie in with that terrible news. But he's an interesting dude and these movies are worth discussing, so I'm gonna put them up anyway.
TYSON is a documentary about Mike Tyson. Actually, it's an interview with Mike Tyson, illustrated by old clips and photos, so it's his life story and career from his point of view. In the beginning there's some split screen with overlapping clips of him talking. For a second I thought "Oh shit, that's right, James Toback did that shitty movie TIMECODE with the 4-way split-screen. I forgot about that movie." (I bet you forgot about it too until I mentioned it. Sorry.)  But don't worry, most of it is a simple, straightforward documentary about an unusual person.
[UPDATE: and as Handsome Dan pointed out in the comments I was confusing Toback with Mike Figgis. Toback is guilty of BLACK AND WHITE, but innocent of TIMECODE.]
I don't really follow boxing so I didn't know much about him, and it turns out it's an interesting story. He talks about being picked on as a kid, then getting in his first fight (a guy killed his pigeon) and winning. That changed his whole attitude about himself. Then he started boxing and he met this grizzled old white guy Cus D'Amato, he's like Burgess Meredith in ROCKY, he takes Mike under his wing and molds him mentally and physically into a warrior. At first Mike wasn't taking it that seriously, he was still on the streets robbing people and shit, until this D'Amato convinced him he could be great. They had a father-son type relationship, you see through vintage interviews how much they meant to each other, then the guy died when Mike was 19. Real sad story.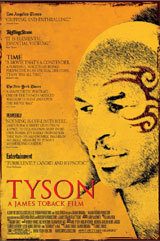 Well, there was no turning back, he was an incredible boxer and he quickly pounded his way to world champ. In the movie he talks through a bunch of the important fights, then what it was like to be world famous at that age. Vintage Tom Brokaw and Barbara Walters clips pop up talking about his marriage to Robin Givens from HEAD OF THE CLASS. Man, I forgot about that interview, anybody remember that? They're sitting together and Robin is just tearing him apart for the cameras, acting like an angry mother, calling him "Michael" and saying he's manic depressive and listing everything he does wrong. And here's this guy famous for punching the shit out of people, he just sits there with a helpless look on his face and doesn't say shit. Don't get me wrong, he was obviously a terrible husband (he says he cheated on her all the time) so you can't feel too sorry for him, but it's just weird to see.
Of course the movie has to deal with his rape charge and prison time. He claims he's innocent and it's obvious that he's really bitter about it, but he seems to imply that he didn't do it that time. It's kind of like earlier in the movie he talks about being accused of stealing some money when he was a kid, and he didn't do it but he did have $1500 in his pocket from other crimes so nobody believed him. There's a scene where he talks about how he likes his sex and it's kind of disturbing, it's easy to imagine him not knowing where to draw a line.
He also tells the whole story about biting a chunk out of Evander Holyfield's ear, and from his point-of-view it makes alot more sense. He blames "accidental headbutts" for losing the title to Holyfield – he kept blacking out and he knew he hadn't been hit, he didn't understand what was going on. When the same thing started happening in the rematch it enraged him, he couldn't believe this guy was doing that to him again, so he went crazy and started biting. He doesn't really try to justify it, just explain it. I mean, how are you gonna convince somebody to agree with you biting a guy's ear off? All you can do is explain why it seemed like a good idea at the time. I hope that will be instructive for other ear-biters.
They don't dwell too much on those moments of insanity, and they don't even play the whole clip when he threatened to eat his opponent's children. They do have the clip of when he was with Don King, an entourage and a bunch of cameras the night he got out of prison. Some passerby yells something about how he should be in a straight jacket, and Tyson snaps. It's like he's still in the yard, he starts yelling about this "punk ass white boy" and "faggot" and what he's gonna do to him, including but not limited to "I'll eat your asshole alive you bitch!" and  "I'll fuck you 'til you love me!" The funny thing is his entourage doesn't even really grab him and hold him back or calm him down or anything.
The guy he's yelling at is never on camera. Too bad, because I bet you could actually see his whole head of hair turn white. It would look like a cheesy special effect, but everybody who was there would swear it really happened. That's gotta be the most pit of the stomach, shit in the pants scared this dude has ever or will ever be, by far. He must've felt like a bear was lunging at his throat but got distracted by honey at the last second. This is the risk you take in this whole Best Week Ever, gossip blog world of everybody making their snarky comments about celebrities, like it's any of their business. If that's your thing and you like to say it to the celebrities in person then I recommend choosing a celebrity who is not known for knocking people unconscious with his hands. Just as a rule of thumb. Choose some weeny from American Idol or something, just for safety purposes.
This is an interesting movie because Tyson is such a larger than life character. I mean look at the guy, he's got a white long-sleeved button up shirt on, like he's trying to look nice, but he's got a fuckin Maori war tattoo on his face. You do alot of staring at his face during the movie, noticing how much his nose has gotten pounded in. He looks in shape. It becomes clear that he can't box like he used to, but he sure looks scarier now than he ever did. And strangely dignified, at least when he wears a nice shirt.
But what really hit me most about the movie is the way it shows this kind of universal tragedy of the guy who works really hard, becomes amazing at something — and then fizzles out. Maybe it's the fame and the money, maybe it's just the inevitable cycle of things. When he brags "I'm the best there ever was!" it's not a completely ridiculous claim. But by the end of his boxing career he's losing fights, he's not trying very hard. I never knew about his last fight – he loses to a white dude, and then in the ringside interview he says that his heart's not really in it anymore, he knows he can't really fight and he just did it for the money. Honest but sad as hell.
Before the movie they had a trailer for another documentary that's coming out that's about Lebron James, focusing on his high school team and how amazing he's been since a very young age. And that guy's at his peak right now but TYSON makes you dread the (hopefully not really) inevitable burn out.
And it makes me think of people in all other areas who are great at something. Like, this seems to be the way with rappers. Most of the legendary rappers make about 1-3 great albums early in their career. Then they stay around for years but never recapture that. I was thinking about that because there were a couple albums that came out recently that I was looking forward to, from guys that haven't had new albums in a while and who used to be the best. And they got some good songs on there but, you know, not greatness. Personally I really hate the southern style of rap that's so popular now, where it's based on simple outdated keyboard riffs and robots singing and chants of "oh! oh! ooooooHHH!" and shit like that. I just don't get it at all, to me it sounds exactly like what the great hip hop sounds like to those dudes who say "it's not even MUSIC!"
So I don't understand why a guy from New York or L.A. who created legendary, even groundbreaking, much-imitated music is now coming out with albums imitating the crude shit that is popular now, putting 25 different guest stars on his album, hiring a different producer for every track. It doesn't make any sense to me. These guys are always comparing themselves in their lyrics to Clint Eastwood, Steven Seagal, Bruce Willis. You stupid motherfuckers – Clint Eastwood didn't ask the cast of HIGH SCHOOL MUSICAL to join him in GRAN TORINO. And he didn't put any matrixy bullet time in there, or Jason Bourne camera wiggles. He went in alone and made a fucking Clint Eastwood movie, because that's what he's good at. Worry about being great again, not about hitting the charts again. If you live to be 80 you'll be more proud of the albums you made than of all the money you put into your shark tank.
But, you know, that's the cycle that TYSON makes you fear, the inevitability that if you're great at something it won't last forever. So the new Wu-Tang album might be pretty good but it's never gonna be 36 Chambers. Or even 18 chambers. That's the tragedy of TYSON. You can only be the best there ever was for a couple years, and then you're just that dude that doesn't have it in him anymore.
(unless you're Clint Eastwood)
This entry was posted on Thursday, May 28th, 2009 at 7:55 pm and is filed under
Documentary
,
Reviews
,
Sport
. You can follow any responses to this entry through the
RSS 2.0
feed. You can skip to the end and leave a response. Pinging is currently not allowed.