Here in the U.S. Sunday was Valentine's Day, yesterday was President's Day, and today is BLACK DYNAMITE Day. If you didn't catch it at a random film festival or in its limited theatrical release (or even if you did) today is the day when you can finally buy or rent it on DVD or Blu-Ray.
I hope I haven't raised expectations on this one talking about it so long, but I've seen it three times now and it definitely stands as one of my favorites of recent years, a really funny and affectionate blaxploitation homage that, while making fun of the absurdity of the genre also happens to capture exactly what I love about those movies. I will proudly put it on my shelf next to my previous favorite blaxploitation comedy, THE HUMAN TORNADO.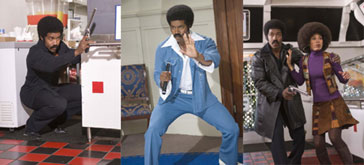 BLACK DYNAMITE is also significant as a showcase for Michael Jai White, not only showing off his previously unseen comedic chops but also demonstrating his skills as an onscreen badass. I have found it works as a gateway drug that I have used to hook many people onto more serious MJW works like UNDISPUTED II and BLOOD AND BONE.
The BLACK DYNAMITE DVD includes a commentary track with director Scott Sanders, Michael Jai White and Byron Minns (co-writer who plays the Dolemite-like Bullhorn). It's a good time but mostly serves as a definitive list of specific references made in the movie. Maybe more enlightening is the section of deleted scenes. There are some laughs in there but it's mostly plot points – I thought it was interesting to see how much they improved the movie by cutting out the plot. For example there's a pretty funny scene of Black Dynamite showing up in a tuxedo to make a speech at a charity event that outs the corrupt politician's mob ties, but it works much better just glimpsed in a montage.
(By the way, the DVD has the trailers for BLOOD AND BONE and UNIVERSAL SOLDIER: REGENERATION. But just so you know I didn't personally program the DVD they also got BOONDOCK SAINTS: THE SQUEAKQUEL on there.)
Now that everyone will finally be able to see this I thought it would be a good time to talk a little more about the two BLACK DYNAMITE soundtrack CDs which I've been enjoying for a few months now. Released by the record imprint of the excellent Waxpoetics magazine, there is an "Original Score to the motion picture BLACK DYNAMITE" album (the new songs created for the movie) and a "Music Track From the picture BLACK DYNAMITE" (the library music compiled by music).
When I first saw BLACK DYNAMITE at the Seattle International Film Festival last summer I think the aspect that seemed most miraculous to me was the music. If it had had a phony '70s sound or was just a greatest hits compilation of funk classics I would've been picky about it, it could've killed the movie for me. Instead it hit the bullseye, so I wondered where the hell they found this Adrian Younge guy who did the music. Easy – he was editing the promo trailer. Coincidentally he was also a collector of vintage recording equipment and instruments who had been studying and experimenting with '70s style soul for many years, so he got to score the movie.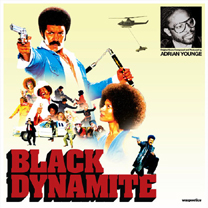 On the liner notes Younge explains, "Vintage equipment is tantamount to a good period recording, because contemporary equipment is manufactured to produce a modern sound. My instruments are all pre-1979 (some dating back to the '30s), microphones are pre-1970, mic pres are pre-1965, and my tape machines are all pre-1978." [Vern note: I don't even know what the fuck a "mic pres" is, let alone how to tell what year they sound like they're from.] That's exactly the type of detail-oriented savant they needed to pull this off, and he did it.
Younge plays most of the instruments on the songs, with excellent, period-authentic vocals by LaVan Davis, Toni Scruggs and Loren Oden (better known as Anaconda Malt Liquor spokesman Leon St. James). From the very beginning it sucks you into the world of Black Dynamite as Bullhorn toasts "I wanna tell you a story  about a friend I had / he's a mean motherfucker and he's superbad / so grab onto your seats and hang on tight / while I tell you a story about Black Dynamite."
As you know from the movie the lyrics are pretty goofy – it's funny to hear the conviction in LaVan Davis's voice as he sings, "Use kung fu when he want to / have sex when he please…" But I'm looking at the lyric sheet and realizing most of them actually aren't much more absurd than actual blaxploitation themes that I love. "Black Dynamite Theme" for example is very Dolemite influenced, with boasts like "When you see him don't have shit to say / He beat the devil with a shovel three times a day."
"Cleaning Up the Streets" might be my favorite of the upbeat tunes. "Man with the Heat (Superbad)" has a nice Curtis Mayfield style vocal without imitating one of his songs specifically. "Chicago Wind" and "Rafelli Chase" sound ready to be sampled by Wu-Tang. The genius of this music is that it doesn't sound funny, most of it sounds intense. Divorced from the movie it has kind of a gloomy, acid-drenched tone, sometimes reminiscent of the first two Funkadelic albums. Not much of the obvious wah-wahs and shit most people would put on a movie like this. More than once I've had this album on and forgot that it was from this movie, mixing it up with some of the compilations of obscure old soul and funk tunes that I have.
Warning: the album's only about 35 minutes long, so don't expect an epic. But at least it doesn't outstay its welcome.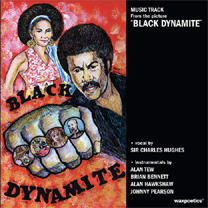 I didn't realize until much later that the other secret to the authentic sounds is that some of it is authentic, and those are the songs on the "Music Track" album. Music supervisor and library music expert David Hollander wrote the liner notes, which give a pretty good overview of the history of this type of music. Created mostly by British white dudes (in this case Alan Tew, Brian Bennett, Alan Hawkshaw and Johnny Pearson), music like this was recorded in marathon sessions and then sold to whoever wanted to use it. It was a more affordable way to score a movie than to hire a composer and musicians (that's why NIGHT OF THE LIVING DEAD used library music – even DAWN OF THE DEAD has some in between Goblin music).
Apparently most of the songs on this album come from Alan Tew's Drama Suite Part I and Part II from the company Themes. Some of the Drama Suite was used for NFL broadcasts, for British cop shows such as The Sweeney, and even for the awesome theme song for THE PEOPLE'S COURT:
The "Music Track" is full of vintage incidental music of all kinds, including a whole bunch of variations on a scene-transition sting called "The Detectives." One of the better tracks is "Action in Memphis," which sounds like a super funky '70s cop show intro – I forget which montage it was used for in the movie. "Name of the Game" kind of reminds me of some of David Holmes's music for OUT OF SIGHT. There's alot of tight percussion like you'd only ever hear in the '70s, but also some kind of goofy vocal sounds and humorously doey eyed love tunes like the one called "Sunny Side Up." Overall the tone is goofier than Younge's songs, even though they weren't made to be that way.
The biggest surprise to me is that the song "Dynomite" (where the often repeated "Dyn-o-mite! Dyn-o-mite!" sting in the movie comes from) is one of the library tunes. It's sung by a guy named Sir Charles Hughes and it's actually pretty corny. I don't believe Sir Charles is actually singing about Black Dynamite. If so, he like to call Black Dynamite "girl" and really likes kissing him. He likes his smile too.
If you like this album I'd also recommend "The Champ" by the Mowhawks, re-released last year by Vampisoul. It's led by Alan Hawkshaw and I think it's all these same guys. A little different from the Drama Suite tracks, but it's a good instrumental album that provided about thirty five thousand recognizable hip hop samples. Also, the cover shows a fist punching through a piano, which is pretty cool.
This entry was posted on Tuesday, February 16th, 2010 at 2:49 am and is filed under
Blog Post (short for weblog)
,
Music
. You can follow any responses to this entry through the
RSS 2.0
feed. You can skip to the end and leave a response. Pinging is currently not allowed.