To Live or Die
This episode begins with the Squad responding to a call about two men shot in an armed robbery. They go to a Hispanic neighborhood where two Latino men are laying on the ground bleeding from gunshot wounds. Seagal and friends ask the wounded men and witnesses about who shot them (two black men with dreads who robbed them and then shot them anyway) but otherwise all they can do is assure them an ambulance is coming. This is the biggest incident we've seen in this series so far, but it's not exciting, it's just upsetting to see these poor guys moaning in pain.
"Believe me," Seagal says. "That really pisses me off bad." After all the people Seagal has left behind in movies, screaming about which body parts of theirs he injured, and after seeing him abandon the body of a colleague and love interest in a wrecked car in EXIT WOUNDS, it's weird to see him standing around frustrated that two people are hurt and he can't do anything. Later we learn that one of the men died.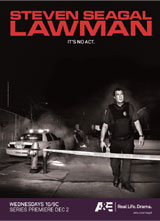 They spend the night looking for a vehicle that fits the description of what the shooters were driving, but when they find one it's a white dude driving, so no luck.
During the day Seagal and Fortunato go to St. Bernard to help some white people still rebuilding their house after Katrina. Our boys don't seem to actually do much work, but the family seem extremely excited and touched to have Steven god damn Seagal come over to their house and hear about their troubles. He does a little painting, but cautions, "I'm not very good at this, y'all." Admitting even an insignificant weakness like that is another thing we're not used to from his movie persona. The man of the house is impressed by Seagal's reach, though. "He doesn't even need a ladder, that's not fair!"
At roll call the next day (or what passes for the next day in this episode, anyway) they discuss that they're still looking for the suspects who shot those two guys. Is this episode gonna have a semi-happy ending? Are they actually gonna catch those assholes?
Not right now. Instead they end up pulling over a 20 year old kid. I think you can guess what race he is. If you guessed white you are incorrect, I will give you two more guesses. The kid has a gun in the car that belongs to his uncle. Damn, everybody in the South has a fuckin gun, it turns out – everybody and their uncle. While they're questioning him he recognizes the Deputy Chief and says, "You know, you my grandma's favorite actor." If his Grandma is reading this please contact me for a free copy of Seagalogy.
I have to admit this is kind of a moving scene, because they could take this kid in for having the gun and ruin his life, but they obviously feel bad for him so they just confiscate the gun and let him go. Seagal is back in the car and they tell him the kid wants an autograph, and he says sure. So this kid is about to make his grandma real happy both by not going to jail and by giving her Steven Seagal's autograph. His uncle might be less happy though, unless he considers it an honor to give his gun to Steven Seagal.
Next they get a call that the shooting suspect has been spotted back near the crime scene, but when they investigate it seems like maybe one of the neighbors just saw some black guy and got scared. Which is understandable I guess, since their friends just got shot. A title tells us that the case remains unsolved.
But the house doesn't! One month later there's a housewarming. Seagal brings some roses to plant, and again the family seems really touched that he's there and they beg him to stop by any time he wants.
More and more this show is painting a portrait of helplessness in the face of violence and misfortune. Reality Seagal doesn't happen to be there when the bad guys take over the boat or the train, he just has to show up afterwards and look around with a flashlight until he's sure he's too late to do anything. He can tell a guy to stay calm in Spanish, but the guy's already been shot. He can plant something in someone's garden, but their house has already been destroyed. Best case scenario he can just not do anything, and sign an autograph, some days that's the best thing he can do to help somebody out. But he still keeps trying.
So in a way that's kind of inspiring, but the racial component of the show is also getting more and more disturbing. I mean they were compassionate toward the kid with the gun who was black, and you can't fault them for their symbolic help of the Katrina family. But still man, it's kind of fishy. As a viewer you get the impression that Jefferson Parish is 95% black, 4% Hispanic and one percent white cops. So it's kind of weird that the family they pick out to help is white. I believe these are the only non-cop whites we've seen besides "the white boys" who started the fight at that club that one time. I mean good for them getting help but you'd think the sheriff's department would want to have more interaction with the black community than that one autograph signing session and those many traffic stops.
Oh well, I'm holding out hope they'll find a meth lab somewhere and get to hassle some white people for once.
languages: Spanish
terms of endearment: brotha, baby
colloquialisms: "Dere day is, righ day-uh."
This entry was posted on Sunday, December 27th, 2009 at 11:34 pm and is filed under
Crime
,
Documentary
,
Reviews
,
Seagal
. You can follow any responses to this entry through the
RSS 2.0
feed. You can skip to the end and leave a response. Pinging is currently not allowed.