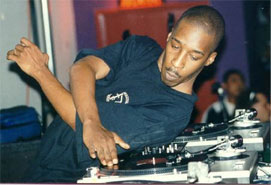 I just read something shocking and sad – Busta Rhymes has announced that the great DJ Roc Raida has died at just 37 years old. Now, I know when that DJ AM guy died recently I had no idea who that was except that he dated Lionel Richie's daughter, and most of you probly know even less about Roc Raida. He didn't date anybody related to anyone famous as far as I know and was not very well known outside of serious hip hop fans, so I'm gonna give you a little impromptu history lesson here.
If you just know hip hop from modern TV and radio you don't really see alot of DJs. Scratching is not usually really a component of popular rap music these days and some of the big ones don't even have a DJ as part of their stage show anymore. This is exactly what was happening in the early '90s as well.
But there were alot of young people who had grown up idolizing Grandmaster Flash, Jam Master Jay and DJ Jazzy Jeff, and experimenting at home with their parents' turntables, trying to figure out what their idols were doing and developing their own techniques and styles. It started to become a subculture and cottage industry much like skateboarding or something like that. In this world the DJ was no longer the guy backing up the rapper, he was the star of the show, and they started having organizations, sponsorships, special equipment, tournaments and championship belts. Some of them even started calling themselves "turntablists" because they were playing it like an instrument.
As the turntablism scene grew there started to be crews of DJs – you don't have Run and DMC and Jam Master Jay, you have three or four Jam Master Jays in one group, performing together. The two most legendary of these crews were the Invisbl Skratch Piklz in San Francisco and the X-Men in New York. Roc Raida was an X-Man. Later, when they started putting out albums (I'm listening to their debut, X-pressions, right now) they had to change the name so they became better known as The X-ecutioners.
On their albums they did a great job of cutting up pieces of records and beats and turning them into musical compositions. But if you ask me the X-ecutioners were primarily a live act, going back to the roots of what hip hop began as. Some of what they did was more showmanship than music. For example, the video below is what they call beatjuggling – not really something that's pleasant to listen to, but an awesome trick to watch somebody do live.
(NSFC – not safe for church)
All of the X-ecutioners did lots of show-offy spins and behind the back tricks and what not but Roc Raida especially was known for goofy shit like the between the legs scratch and doing those poses and facial expressions and stuff. It may seem kind of silly, but a DJ's job is interacting with the crowd. He's looking for a laugh or applause when he does those things. And it's amazing to watch because I have a hard time just playing a record without it skipping. This guy has such an amazing control of this sensitive device that he can throw in gratuitous hotrodding, like a martial artist doing a couple extra flips just to show off. He was also really good at collaging together words from different records to taunt his opponents.
I actually did see them live at least two times, maybe three, and it was a sight to behold. I couldn't find any videos that truly captured how amazing it was to see four master DJs all performing together and working the crowd, but the one below is pretty good and shows a more musical example of their art. Roc Raida is third from left in the blue shirt.
If you're interested, the X-ecutioners are heavily featured in Doug Pray's documentary SCRATCH, which also does a great job of explaining the whole turntablist movement.
The X-ecutioners went their separate ways a while back, and I'm not sure if I ever heard that Roc Raida had become Busta Rhymes's DJ, backing up the rapper like the days before 'turntablism' was coined. It hasn't been confirmed by any news source that I've seen, but rumor is a statement from his family says he had gotten serious spinal injuries in a car accident "mixed martial arts accident" and his death may have been was related to that.
Rest in Peace Roc Raida, you were one of the greats. I'm glad I got to see you perform and I'll keep listening to your records.
This entry was posted on Sunday, September 20th, 2009 at 12:31 pm and is filed under
Blog Post (short for weblog)
. You can follow any responses to this entry through the
RSS 2.0
feed. You can skip to the end and leave a response. Pinging is currently not allowed.