I don't know about you guys but I enjoy the work George Clooney does with his writing partner Grant Heslov (better known as the Rock's sidekick in THE SCORPION KING). Now Heslov is directing a movie starring Clooney based on a book I've heard is good, a true story comedy about a unit of the military that tried to figure out how to use paranormal powers.
It doesn't come out until the beginning of November, but they're just now beginning to advertise it and there's a poster for it now. An interesting design because it doesn't show any photos from the movie or anything, it's just some silverish background with red silhouettes, kind of scratched up looking an– wait a minute WHAT THE FUUUUCK!??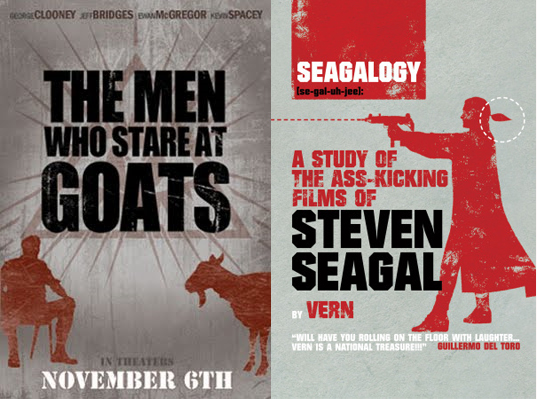 This entry was posted on Thursday, September 17th, 2009 at 2:53 pm and is filed under
Blog Post (short for weblog)
. You can follow any responses to this entry through the
RSS 2.0
feed. You can skip to the end and leave a response. Pinging is currently not allowed.