Okay, everybody remain calm, I know this is fucking crazy but two of you lucky individuals are about to have your lives changed FOREVER. Some day soon, a CODE OF HONOR blu-ray will arrive at your home, and from that moment until the end of your life, you will never have not once been an owner of CODE OF HONOR on blu-ray. These sort of momentous events cannot be planned for. The best we can do is just take a deep breath and let destiny do her thing.
Here's how to enter: in the comments, write me a sentence or a paragraph about a movie character you like that operates by a code of honor. It could be a Seagal character or otherwise. I will (somewhat arbitrarily, I suspect) choose two winners at noon on July 5th, which also happens to be the release date of CODE OF HONOR starring Steven Seagal as basically The Punisher.
Please make sure to use your current email when you sign in so I can get a hold of you if you win.
One catch: Lionsgate will only ship inside the U.S. Sorry about that my international friends. I don't make the rules. That's just how the lion's gate swings.
Action Superstar Steven Seagal Seeks Revenge In

Retribution Is Served on Blu-rayTM, DVD,
& Digital HD July 5 from Lionsgate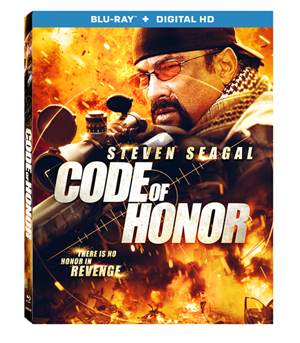 SANTA MONICA, CA (May 9, 2016) –  Martial arts icon Steven Seagal tests his moral code in the action-packed Code of Honor on Blu-ray, DVD, and Digital HD July 5 from Lionsgate. Code of Honor follows an ex-Special Ops agent as he protects his city from a vigilante. Currently available On Demand, the film also stars Craig Sheffer (Stand Up Guys), Louis Mandylor (My Big Fat Greek Wedding franchise), Helena Mattsson (Iron Man 2), Griff Furst (Focus), Rafael Petardi (Angels & Demons), Michael Flynn (feature film debut), R.D. Call (Waterworld), and James Russo (Django Unchained).
 When his family is killed in a drive-by shooting, Robert Sikes (Seagal), a former Special Ops operative, vows to rid his city of every last criminal. Sikes's former protégé, FBI agent Porter (Sheffer), with help from a witness (Mattsson), tries to find his vigilante friend before the police — or the maniacal mobster Romano — are able to.
 OutlawVern.com raves, "If you are absolutely dead set on seeing no more or less than 1 (one) of the 2 (two) Steven Seagal films that came out last week, and you can't be talked out of it, I highly recommend CODE OF HONOR for your specific circumstances only."

Code of Honor will be available on Blu-ray and DVD for the suggested retail price of $19.99 and $19.98, respectively.
This entry was posted on Wednesday, June 29th, 2016 at 10:49 am and is filed under
Blog Post (short for weblog)
. You can follow any responses to this entry through the
RSS 2.0
feed. You can skip to the end and leave a response. Pinging is currently not allowed.