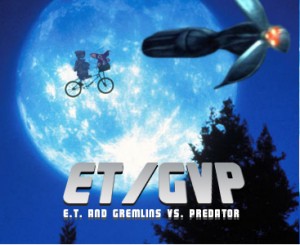 We get alot of good conversations going in the comments about all kinds of random shit. I've been thinking maybe I should do some "blog posts" about the nerd news of the day, like today it would be the AVATAR trailer or INGLORIOUZ BASTIRDZ is coming out or whatever and then we could all discuss it. Maybe I'll start doing that sometimes, maybe I won't. Nobody knows. But for now here's a place to comment on whatever you damn well feel like.
I couldn't find a good picture of the Jeopardy category "POTPOURRI" so instead enjoy this fine ET/GVP poster art.
This entry was posted on Friday, August 21st, 2009 at 2:56 am and is filed under
Blog Post (short for weblog)
. You can follow any responses to this entry through the
RSS 2.0
feed. Both comments and pings are currently closed.