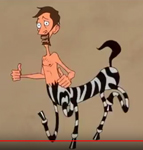 My podcast pals Marcus and Scott had me on Zebras in America again. It's just a freeform conversation, but I prepared notes, which I think helped. I'm not gonna claim I didn't say anything embarrassing, but I had fun talking to them again. I remember we discussed EXTRACTION and the phenomenon of straight-to-Netflix action movies, the power of Scott Adkins, and I think I did a good job plugging my upcoming book at the end. I did forget to tell them that I watched ONCE UPON A TIME IN VENICE after Scott recommended it last time I was on. Also I should've brought up MASTER Z as a followup to our previous Dave Bautista discssion. Maybe another time.
This entry was posted on Thursday, May 7th, 2020 at 10:12 pm and is filed under
Blog Post (short for weblog)
. You can follow any responses to this entry through the
RSS 2.0
feed. You can skip to the end and leave a response. Pinging is currently not allowed.