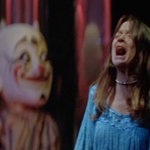 After SALEM'S LOT but before POLTERGEIST, Tobe Hooper did a humble little teen horror movie that acts as a rickety jerry-rigged bridge between his nasty beginnings and his guy-who-works-with-Spielberg years. Filming in Florida, Hooper was able to create a vibe of sweaty southern depravity in the tradition of THE TEXAS CHAIN SAW MASSACRE and EATEN ALIVE, but bigger – THE FUNHOUSE is a $3 million Universal movie. I don't know if it's the sweeping aerial views from cinematographer Andrew Laszlo (THE WARRIORS, FIRST BLOOD, REMO WILLIAMS) or the ominous orchestral score by John Beal (primarily a composer for trailers), but I swear there's a faintly classy polish on this trashy drive-in sideshow.
I suppose the influence of HALLOWEEN might've contributed. The opening is an obvious homage – maybe even straight up ripoff – a POV shot of what turns out to be a kid (Shawn Carson, SOMETHING WICKED THIS WAY COMES) putting on a clown mask and creeping up on his naked sister (Elizabeth Berridge, AMADEUS, HIDALGO). The difference is that he's not a psycho, just a little brat trying to scare her. This pranking and the horror movie memorabilia in his room don't turn out to be relevant, other than that the real horror he encounters hides itself under a Frankenstein's monster mask, and when he sees it he won't be laughing, he'll be crying like a baby. (read the rest of this shit…)
VERN has a new action-horror novel out called WORM ON A HOOK! He has been reviewing movies since 1999 and is the author of the film criticism books Seagalogy: A Study of the Ass-Kicking Films of Steven Seagal and Yippee Ki-Yay Moviegoer!: Writings on Bruce Willis, Badass Cinema and Other Important Topics as well as the crime novel Niketown.