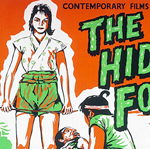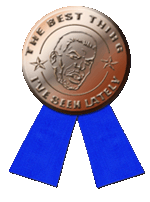 Let's face it, I'm stupid to not have seen all the Akira Kurosawa movies. Usually when I see one it becomes my new favorite movie. HIDDEN FORTRESS is my latest favorite movie.
It's another one with Toshiro Mifune playing a badass warrior, but it starts on two buffoonish peasants, Tahei (Minoru Chiaki) and Matashichi (Kamatari Fujiwara). They're all dirty and their clothes are torn up and they're arguing, blaming each other for the shit they've just been through. One of them got the bright idea they could make money fighting with the Yamana clan, but they got to the battle too late and were mistaken for the losing Akizuki clan and forced to help bury all the dead bodies. And shortly after this they get taken prisoner again, locked up in the vanquished Akizuki castle and forced to dig for their hidden gold until there's a riot and they escape.
On the lam they accidentally break a stick that has a piece of gold inside, marked with the Akizuki seal. What the hell? And while they're checking all the sticks in the area for more gold they run into Mifune. He starts bossing them around without telling them he's General Makabe Rokurota of the Akizuki clan and that he's trying to sneak the clan's gold and their sixteen year old princess Yuki (Misa Uehara) to safety. (read the rest of this shit…)
VERN has been reviewing movies since 1999 and is the author of the books SEAGALOGY: A STUDY OF THE ASS-KICKING FILMS OF STEVEN SEAGAL, YIPPEE KI-YAY MOVIEGOER!: WRITINGS ON BRUCE WILLIS, BADASS CINEMA AND OTHER IMPORTANT TOPICS and NIKETOWN: A NOVEL. His horror-action novel WORM ON A HOOK will arrive later this year.