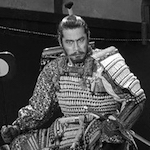 THRONE OF BLOOD (蜘蛛巣城, Kumonosu-jō, "SPIDER WEB CASTLE") is an Akira Kurosawa movie from 1957, and the only one I've seen by him that has supernatural shit in it. It's partly inspired by Shakespeare's Macbeth, which to be honest I don't remember that well, because I only read it in school, and Julie Taymor hasn't made it into a movie yet. But even I picked up on it when the Lady Macbeth-like character couldn't stop scrubbing her hands, thinking they still had blood on them. That guy died 400 years ago, and he still owns guilty hand-washing scenes. Hats off.
Two generals, Washizu Taketoki (Toshiro Mifune, HELL IN THE PACIFIC) and Miki Yoshiteru (Akira Kubo, GAMERA: GUARDIAN OF THE UNIVERSE), are headed back to their boss Lord Tsuzuki (Hiroshi Tachikawa, FIGHTING ELEGY) at Spider Web Castle after a glorious victory in battle. But, like a horror movie, the woods seem to have changed, and they've gotten lost. Then they spot a strange all white ghosty type person (Chieko Naniwa, SANSHO THE BAILIFF) just kinda sitting there in the woods glowing. And when that happens, I mean you basically got a choice of running away or walking up to it and seeing what the deal is. They choose B. (read the rest of this shit…)
VERN has a new action-horror novel out called WORM ON A HOOK! He has been reviewing movies since 1999 and is the author of the film criticism books Seagalogy: A Study of the Ass-Kicking Films of Steven Seagal and Yippee Ki-Yay Moviegoer!: Writings on Bruce Willis, Badass Cinema and Other Important Topics as well as the crime novel Niketown.