August 23, 1985
"Godzilla. I was hoping I'd never hear that name again."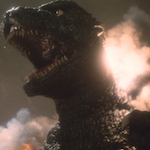 Near the conclusion of the Summer of 1985 – a movie season that attempted to bring back James Bond, the Vietnam War, pirates, Dorothy Gale, Clint Eastwood westerns, Mad Max, Walt Disney animation, the Griswolds, Dr. Frankenstein and two different types of Living Dead – America welcomed back a very large visitor from overseas. Godzilla had not had a movie since THE TERROR OF MECHAGODZILLA in 1975, so this is about the same as the gap between REVENGE OF THE SITH and THE FORCE AWAKENS, and it was a similar case of a younger generation being entrusted with reinventing and continuing an iconic series for modern audiences. Original producer/creator Tomoyuki Tanaka was still in charge, but director Koji Hashimoto (SAYONARA JUPITER) and writer Shuichi Nagahara (STRAY CAT ROCK: DELINQUENT GIRL BOSS) were both teenagers when the first film came out. (Hashimoto got his start as an assistant director on Toho movies in the '60s, including GODZILLA sequels).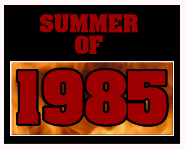 This one ignores all the previous sequels. There's no Mothra, no Minya, no Monster Island, only the events of 1954's GODZILLA: KING OF THE MONSTERS, so in that sense it's less FORCE AWAKENS and more David Gordon Green's HALLOWEEN. It was made for the 30th anniversary, so think about the films of 1990. In terms of time, if not cultural relevance, it's like if this summer had a big new event sequel to TREMORS or DARKMAN, I guess? Or, to put it another way – GODZILLA 1985 is five years older today than the original GODZILLA was at the time. Shit. (read the rest of this shit…)
VERN has a new action-horror novel out called WORM ON A HOOK! He has been reviewing movies since 1999 and is the author of the film criticism books Seagalogy: A Study of the Ass-Kicking Films of Steven Seagal and Yippee Ki-Yay Moviegoer!: Writings on Bruce Willis, Badass Cinema and Other Important Topics as well as the crime novel Niketown.