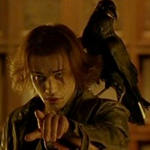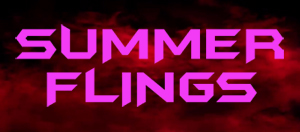 August 30, 1996
I don't remember ever hearing anybody say nice things about THE CROW part 2, CITY OF ANGELS, so let me start out with one: this is a gorgeous looking movie. Part 1 production designer Alex McDowell (LAWNMOWER MAN, CRYING FREEMAN, FEAR AND LOATHING IN LAS VEGAS, WATCHMEN) returns, this time with cinematographer Jean-Yves Escoffier (GUMMO, GOOD WILL HUNTING), to tweak and expand on the aggressively stylized gotholopolis look he created for Alex Proyas' THE CROW.
This time it looks more real, and has a yellow tint on its foggy (maybe it's smoggy?), trash-strewn streets, representing the heat of Los Angeles, I hope, and not the piss that it clearly smells of. I don't know my skylines, so I'm not sure I would've understood that they changed the location from Detroit without the subtitle or the cool shot where a row of palm trees burst into flame one-by-one as the crow (the bird that seems to be responsible for resurrecting murder victims, not the vengeful harlequin ghost he enables) flies past them. There's a great tracking shot of the bird flying over the (model) city, and a profile shot of the ghost speeding on his motorcycle, his feathered friend right in front of him. The movie definitely achieves on levels of technical craftsmanship. (read the rest of this shit…)
VERN has been reviewing movies since 1999 and is the author of the books SEAGALOGY: A STUDY OF THE ASS-KICKING FILMS OF STEVEN SEAGAL, YIPPEE KI-YAY MOVIEGOER!: WRITINGS ON BRUCE WILLIS, BADASS CINEMA AND OTHER IMPORTANT TOPICS and NIKETOWN: A NOVEL. His horror-action novel WORM ON A HOOK will arrive later this year.