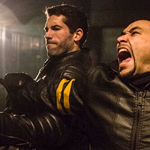 For those who came in late… The English actor and martial artist Scott Adkins is the reigning champ of low budget action. After catching our eye as the villain-turned-anti-hero Boyka in three UNDISPUTED sequels (2, 3, 4), as well as starring in two NINJA movies (1, 2) and the incredible UNIVERSAL SOLDIER: DAY OF RECKONING, he was clearly the era's strongest answer to the iconic action stars of the '90s like Jean-Claude Van Damme – who he co-starred with in THE SHEPHERD: BORDER PATROL, ASSASSINATION GAMES and EXPENDABLES 2. The latter was one of the many times we got hyped up for impending mainstream recognition only to find him playing Knife Guy Who Has Short Fight With Jason Statham. For years people hoped he'd be cast as Iron Fist or somebody in the Marvel Universe, until finally he was in DOCTOR STRANGE – and got beat up by a magic cape.
Little did we know that there was a comic book he'd been wanting to make into a movie since the age of 15, and this didn't require a big special effects budget or a subduing of his talents. ACCIDENT MAN – starring, produced and co-written by Adkins – is an action-packed, darkly humorous hitman saga based on stories that appeared in the British comics anthology Toxic! in 1991, written by Pat Mills (Judge Dredd, etc.) (read the rest of this shit…)
VERN has a new action-horror novel out called WORM ON A HOOK! He has been reviewing movies since 1999 and is the author of the film criticism books Seagalogy: A Study of the Ass-Kicking Films of Steven Seagal and Yippee Ki-Yay Moviegoer!: Writings on Bruce Willis, Badass Cinema and Other Important Topics as well as the crime novel Niketown.