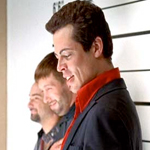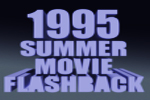 Do you guys know about these "Usual Suspects"? They're this group of criminals who get rounded up one day for a line up for some crime none of them had anything to do with, and it pisses them off so much that they decide to pool their resources for a job that will get them some diamonds and humiliate the police by exposing their corruption. As a bonus it will also allow them to terrorize an uptight Paul Bartel and blow up his car. But when they go to fence the jewels they realize they've been pulled into this whole other thing with an infamous boogie man super-criminal who now says they owe him and have to do a job for him or their loved ones will be assaulted and killed. Or at least that's what this lawyer Kobayashi (Pete Postlethwaite, INCEPTION) tells them. Or at least that's the story that Verbal Kint (Kevin Spacey, MOON, The Equalizer) tells Customs Agent Kujan (Chazz Palminteri, BERRY GORDY'S THE LAST DRAGON) when he wants to know what led up to the burning ship full of dead bodies discovered last night.
Yeah, actually this movie is pretty complicated, and that's just the basics there. There's also the whole thing about a Hungarian burn victim survivor of the boat fire and the FBI agent (Giancarlo Esposito, DO THE RIGHT THING, The Equalizer) bringing in a translator and sketch artist before surgery to try to get him to tell what he knows about the mysterious Keyser Soze and trying to get the information to Agent Kujan in time and etc. (read the rest of this shit…)
VERN has a new action-horror novel out called WORM ON A HOOK! He has been reviewing movies since 1999 and is the author of the film criticism books Seagalogy: A Study of the Ass-Kicking Films of Steven Seagal and Yippee Ki-Yay Moviegoer!: Writings on Bruce Willis, Badass Cinema and Other Important Topics as well as the crime novel Niketown.