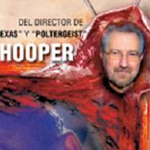 Dance of the Dead is Tobe Hooper's first episode of the Masters of Horror anthology TV show – it was the third week of the series, November 2005, airing after episodes by Don Coscarelli and Stuart Gordon. Made in the throes of the Bush years, one could argue that the wars overseas and upheaval at home subconsciously gave it its apocalyptic flavor, much as TEXAS CHAIN SAW MASSACRE has been said to have been marinated in Vietnam era angst.
Not that it's as good. Or even close. Like all Masters of Horror episodes, its TV budget, schedule, locations and crew dull the edge of any cinematic flair or authorial vision. That's a bad mix with Hooper's decision to go a little Tony Scott with the Avid farts and camera shakes. That style might've been intended as a translation of the showy writing style in the short story by Richard Matheson (whose son Richard Christian Matheson wrote the adaptation), but I found it cheesy and forced, with the exception of a long convertible joy ride sequence, where the camera movement effectively conveys the high speeds the characters are moving at both physically and mentally. (read the rest of this shit…)
VERN has been reviewing movies since 1999 and is the author of the books SEAGALOGY: A STUDY OF THE ASS-KICKING FILMS OF STEVEN SEAGAL, YIPPEE KI-YAY MOVIEGOER!: WRITINGS ON BRUCE WILLIS, BADASS CINEMA AND OTHER IMPORTANT TOPICS and NIKETOWN: A NOVEL. His horror-action novel WORM ON A HOOK will arrive later this year.